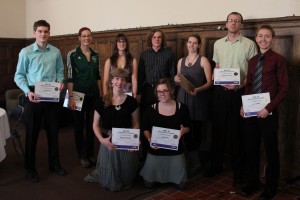 March 30, 2012 –  Members of the CMU varsity soccer, basketball, and volleyball teams gathered earlier this month to recognize the outstanding achievements of CMU athletes   for the 2011-12 MCAC seasons.
One of CMU proudest accomplishments this year was the success of its varsity athletes in the classroom. CMU   honoured nine student-athletes for academic achievements    of 4.0 or higher:  (back row, l .to r.)  Jacob Miller, Christina Janzen, Vanessa Kornelson, Simon Dueck, Lindsay Braul, Rodger Toews, Josh Ewert; (front row, l .to r.): Nina Schroeder, Laura Tait 
The MCAC recognizes student-athletes who achieve a grade-point average of 3.0 (80%) or higher with academic awards for Scholar-Athletes. This year, 47 members of CMU varsity teams received recognition for their classroom success (69% of all team members) at CMU's March 11, 2012 Athletics Awards Banquet.
Evelyn Kampen took home her second-consecutive Female Athlete of the Year honours. The fifth-year women's volleyball star completed her final year at CMU in style, winning her third-consecutive conference MVP honours last month.
Other major award winners included Jacob Miller of the men's basketball team who was selected Male Athlete of the Year. The 5'10 second-year guard was selected to the MCAC All-Conference Team for the first-time earlier this month and helped lead the Blazers to a first-place finish in the regular season.
The Trailblazer Award, given to a student-athlete who showed excellence in team leadership and community service was awarded to Todd Reimer of the men's volleyball team. The 5'10 outside hitter from Rosenort has captained the Blazers and will be graduating from CMU this spring.
The following athletes were honoured by their CMU coaches with varsity team awards:
Women's Soccer
Rookie of the Year – Amy Carlson
Outstanding Graduate – Chrissy Scheerer
Most Valuable Player – Maraleigh Short
Men's Soccer
Rookie of the Year – Simon Dueck
Most Valuable Player – Sean Dyck
Women's Volleyball
Rookie of the Year – Taylor Bain
Outstanding Graduate – Kathleen Vitt
Most Valuable Player – Evelyn Kampen
Men's Volleyball
Rookie of the Year – Selanne Sangalang
Outstanding Graduate – Josh Krueger
Most Valuable Player – Todd Reimer
Women's Basketball
Rookie of the Year – Darcie Donald
Outstanding Graduates – Meghan Kjartanson, Mallory Shack
Most Valuable Player – Nina Schroeder
Men's Basketball
Rookies of the Year – Matt Koenig, Matej Juric
Outstanding Graduate – Nick Miller
Most Valuable Player – Wyatt Anders
Canadian Mennonite University has over 1,700 students at its Shaftesbury Campus, at Menno Simons College in downtown Winnipeg, and enrolled through its Outtatown discipleship program. CMU is a member of the Association of Universities and Colleges of Canada.
For Athletics Information, contact CMU Athletics Director Russell Willms: rwillms@cmu.ca