Dr. Gordon Zerbe selected to assume academic leadership role in June 2014
Canadian Mennonite University (CMU) announces the appointment of Dr. Gordon Zerbe as Vice President Academic, effective June 2014. Zerbe replaces Dr. Earl Davey who retires in June following six years of service in this role.
CMU President Dr. Cheryl Pauls is delighted to announce Zerbe's appointment.
"Dr. Zerbe brings visionary rigour and analytical imagination to the role," says Pauls. "At the same time, he enjoys quality relationships with students and faculty."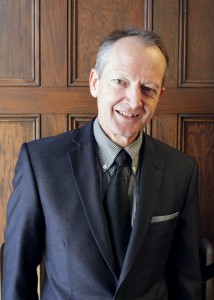 The VP Academic is responsible for advancing CMU's mission as a thriving liberal arts university in the Anabaptist/Mennonite tradition through its BA, BBA, BMus, and MA degree programs at the Shaftesbury Campus as well as its two programs at Menno Simons College.
A key member of senior administration, the VP Academic works closely with the President and other VPs to create a synergistic flow amongst academic activities, community partnerships, university operations, and long-term planning.
"Dr. Zerbe is whole-heartedly committed to the mission entrusted to CMU and he is well-suited to lead the ongoing design of its programming," says Pauls. "Gordon's scholarship and teaching demonstrate exemplary depth and breadth, and he is effective in translating these qualities into academic and faculty development."
"I think CMU has a great future, and I'm excited about the prospect of working with CMU's engaged faculty and committed administrators, as we move into the next phase of its life, matching creative and relevant programming with the interests of our dynamic and diverse student body."
Zerbe's appointment follows a six-month search process involving external stakeholders as well as faculty.
About Dr. Gordon Zerbe
Zerbe served a term as Vice President and Academic Dean for CMU's Shaftesbury campus from 2004-2007. A professor at CMU since 1990, he has taught a wide range of subjects including Biblical Studies, Early Christianity, Greco-Roman History, World Religions, and Peace Studies.
Zerbe is also the General Editor of CMU Press, an academic publisher of scholarly, reference, and general interest books. Within the past year he has completed two books, Citizenship: Paul on Peace and Politics, and Philippians (forthcoming in 2014), part of the Believers Church Bible Commentary series.
Zerbe holds a PhD in New Testament from Princeton Theological Seminary, a Master of Arts in Cultural Anthropology from Western Washington University, a Master of Arts Biblical Studies (New Testament) from Mennonite Brethren Biblical Seminary, and a Bachelor of Arts in Social Work from Tabor College.
In his spare time, Zerbe enjoys reading, traveling, hiking, tennis, theatre, and tinkering around in his 100-year old house.