CMU welcomes world peacemakers in June 2010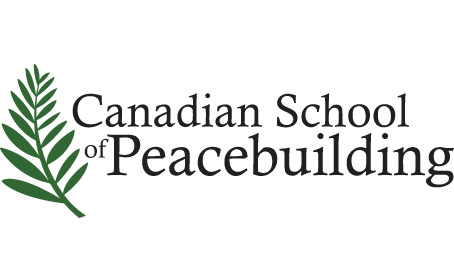 For release May 6, 2010
Canadian Mennonite University, realizing a dream a year earlier when it established its first Canadian School of Peacebuilding (CSOP), will hold its second annual Canadian School of Peacebuilding in Winnipeg at its south Winnipeg campus, June 14 – July 2, 2010.
"We offer peacebuilders from around the world courses from local, national and international peacebuilders, which will benefit a wide range of NGOs, practitioners and learners of peace," says CSOP Co-Director Jarem Sawatsky. "For this year's School, we have again attracted members of the world peacemaking community's most respected practitioners and teachers. We are honoured to welcome them and are grateful to be in a position through their services to offer timely and meaningful courses to our CSOP participants in 2010."
CSOP is hosted by CMU, a Christian university that is rooted in the historic Anabaptist tradition of peace, justice, and service. Drawing from this deep commitment to respectfully practice peace in difficult places in the world, CSOP offers opportunity for dissimilarly rooted peacebuilders from around the world to come together to learn, to share, and to practice peace.
The goal of the Canadian School of Peacebuilding is to serve peacebuilders around the world by bringing them together in a collaborative learning community, nurturing and equipping them for various forms of peace practice and exposing them to some of the most significant, emerging ideas and teachers in the field," says Sawatsky.
CSOP aims to create a space where people from different backgrounds and perspectives can connect in positive and respectful ways—learning together, supporting each other, and creating networks of engaged peacebuilders. CSOP is for peacebuilders from all faiths, countries, and identity groups. The CSOP community is shaped by this ethic of respect and collaboration.
Collaborating Partners
The Canadian School of Peacebuilding is supported in its programming through the efforts of four collaborating partners: Canadian Foodgrains Bank; Congregational Peacebuilding Partners; Mediation Services and Resolution Skills Centre; Mennonite Central Committee Canada.
CSOP Sponsors
In addition, sponsors help to provide a vital connection between the Canadian School of Peacebuilders and existing networks of peacebuilders. CSOP sponsors include: Africa Peace and Conflict Network; CAUSE Canada ; Center for Negotiation and Conflict Resolution, Rutgers University; Centre de ressources sur la non-violence; Fellowship of Reconciliation; Institute for Community Peacebuilding; Institute for Theology and the Church; La Maison de l'Amitié Student Residence; Mediation Northern Ireland; Peace Research: The Canadian Journal of Peace and Conflict Studies; Physicians for Global Survival; Project Peacemakers; and Somali Alliance for Peace and Democracy.
Cooperating Academic Programs
CSOP is enriched and its impact broadened through its association with cooperating academic programs, namely: The Centre for Peace Studies, McMaster University; Justice and Peace Studies Program, Creighton University; The Lion and Lamb Peace Arts Center, Bluffton University; Peace and Conflict Studies, Bluffton University; Peace and Conflict Studies Program, University of Colorado at Boulder; Peace and Justice Studies Program, Associated Mennonite Biblical Seminary; and The Peace Studies Program, University of New England, New South Wales, Australia
Canadian Mennonite University (CMU) is a Christian university in the Anabaptist tradition, offering undergraduate degrees in arts and science, business and organizational administration, communications and media, peace and conflict resolution studies, music and music therapy, theology, and church ministries, as well as graduate degrees in Theological Studies and Christian ministry. Canadian Mennonite University, through Menno Simons College (CMU's campus at The University of Winnipeg) and through its south Winnipeg Shaftesbury campus, offers what is considered to be the world's largest, most comprehensive undergraduate program in peace and conflict studies. Located in Winnipeg, Manitoba, CMU has over 1,800 students at its Shaftesbury Campus in Southwest Winnipeg, at Menno Simons College in downtown Winnipeg, and enrolled through its Outtatown discipleship program. CMU is a member of the Association of Universities and Colleges of Canada (AUCC).

See below for 2010 CSOP Course Instructors and Course Titles

View CSOP course descriptions online at: www.cmu.ca/csop
Note: All courses can be taken for training or for undergraduate credit. In addition, Poets, Prophets and Music of Social Justice, Congregational Peacebuilding, and Mennonite Approaches to Peace and Justice can be taken for graduate credit.

For CSOP information, contact:
Valerie Smith vsmith@cmu.ca; Tel. 204.487.3300 Ext. 315

For CMU information or images, contact:
Nadine Kampen, CMU Communications & Marketing Director
nkampen@cmu.ca ; Tel. 204.487.3300 Ext. 621
Canadian Mennonite University, 500 Shaftesbury Blvd., Winnipeg, MB R3P 2N2



Session I – June 14-18, 2010

POETS, PROPHETS AND MUSIC OF SOCIAL JUSTICE
John Bell, The Iona Community, Glasgow, Scotland with Irma Fast Dueck, Canadian Mennonite University, Winnipeg, Canada
BTS-5314\3 (graduate credit)
BTS-3430\3 (undergraduate credit)

A CREE PERSPECTIVE ON NON-VIOLENCE
Ovide Mercredi (former National Chief of the Assembly of First Nations in Canada, current Chief of Misipawistik Cree Nation in Manitoba current Chancellor of the University College of the North)
PCTS/POLS-2950\3

Our Contested Food System: Cultivating a Just Peace (in collaboration with Canadian Foodgrains Bank)–
Cathy Campbell, Rector of St. Matthew's Anglican Church, author Stations of the Banquet: Faith Foundations for Food Justice; Martin Entz, Professor in the Department of Plant Science at the University of Manitoba, researcher on cropping systems and natural systems agriculture; Kenton Lobe, Instructor in IDS at CMU, former food policy advisor for Canadian Foodgrains Bank, organic farmer); Ray Vander Zaag, Assist. Professor of IDS at CMU, formerly with Canadian International Development Agency as a Project Officer)
IDS/PCTS/INTG-3950
Session II – June 21-25, 2010
Agents of Change in Intractable Conflicts: Lessons from Middle East Peacebuilding
Marc Gopin, Professor of Religion, Diplomacy and Conflict Resolution, and the Director of the Center on Religion, Diplomacy and Conflict Resolution (CRDC) at George Mason University's Institute for Conflict Analysis and Resolution (ICAR). He is also an ordained Jewish rabbi and author of several books on peace and conflict.
Course PCTS-3950

Mennonite Approaches to Peace and Justice (in collaboration with Mennonite Central Committee Canada)
Harry Huebner, Professor Emeritus of Philosophy and Theology at CMU, author, formerly with Mennonite Central Committee in Jerusalem, and co-founder of Christian Peacemaker Teams
BTS-4720 (Note: this course can be taken for undergraduate or graduate credit or for professional development)

Session III – June 28-July 2, 2010

International Perspectives on Restorative Justice
Howard Zehr, grandfather of the Restorative justice movement, Professor of Restorative Justice (Eastern Mennonite University), award winning author of 10 books on restorative justice
PCTS-3950

Thriving in a Firestorm: Congregational Peacebuilding
(in collaboration with Congregational Peacebuilding Partners)
Lois Edmund, Assistant Professor of Conflict Resolution Studies (Canadian Mennonite University at Menno Simons College), clinical psychologist since 1980
BTS-5310
PACTS/BTS-3950