Offers one woman's compelling, ordinary, and surprising life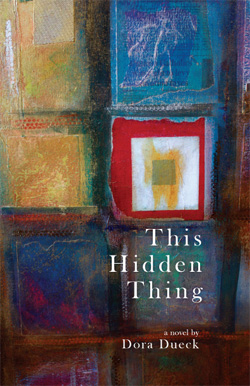 For release May 6, 2010
CMU PRESS is pleased to announce the publication of a new novel by Dora Dueck, This Hidden Thing. The book will be officially launched on May 19, 8 p.m. at McNally Robinson Booksellers.
Beginning in Winnipeg in the1920s, This Hidden Thing tells the moving story of Maria Klassen, a newly landed Mennonite immigrant. Maria becomes a domestic for a prosperous Canadian family in order to support her family as they struggle to build a life for themselves on a farm near the town of Winkler.
"As I was writing Maria's story, I thought of it as a way of expressing the immigrant experience," Dueck reflects. "I think too that I'm always looking at how people, especially women, live their lives – as a way of navigating my own."
Secrets are a major theme in the novel, but not necessarily in the way one might expect. As Dueck notes, the theme of "hiddenness" captures something of the Mennonite immigrant experience. "One of the hardest aspects about being a newcomer in another culture is not being 'known.'" And for many Mennonite women, this sort of invisibility was already a fact of life. "Women did their theological work privately, and resistance to received wisdom, or knowledge against the grain as it were, would have to be held secretly, perhaps even subversively." She continues, "In thinking about Maria's decisions and use of silence, I'm hoping readers might be drawn to reflect on the ways in which secrets might be powerful, even life-giving, and the ways in which they destroy, or build one false wall after the other."
Among Mennonite writers, Dora Dueck is somewhat unusual for her portrayal of individuals who have remained loyal to their communities of upbringing. Dueck's previous novel, Under the Still Standing Sun, focussed on the pioneering story of Mennonites in the Chaco. According to Ann Hostetler, who is Professor of Creative Writing and Literature at Goshen College, This Hidden Thing "offers a worthy female, urban counterpart to Rudy Wiebe's Peace Shall Destroy Many."
"But above all," continues Hostetler, "this is a novel of character. Dora Dueck inhabits her characters in such a way that the reader is drawn into a living, breathing world that lingers even after the covers of the book are closed."
Dueck comments: "In my two novels, the protagonists remain 'insiders' as it were. It means they reference and use the religious categories, language of the church, the piety, as they live within that world. I've tried to present them and that world with integrity, but it shouldn't feel less complicated for all that."
This Hidden Thing (CMU PRESS) is available from the CMU Bookstore at 600 Shaftesbury Blvd., Winnipeg. Contact cmubookstore@cmu.ca; telephone 204.487.3300. The cost is $19.50.
CMU PRESS is an academic publisher of scholarly, reference, and general interest books at Canadian Mennonite University. Books from CMU Press address and inform interests and issues vital to the university, its constituency, and society. Areas of specialization include Mennonite studies, and works that are church-oriented or theologically engaged.
Canadian Mennonite University (CMU) is a Christian university in the Anabaptist tradition, offering undergraduate degrees in arts and science, business and organizational administration, communications and media, peace and conflict resolution studies, music and music therapy, theology, and church ministries, as well as graduate degrees in Theological Studies and Christian ministry. Located in Winnipeg, Manitoba, CMU is a member of the Association of Universities and Colleges of Canada (AUCC).
For CMU PRESS information, contact:
Jonathan Dyck, CMU PRESS Project Manager
cmupress@cmu.ca
204.487.3300
For CMU information, contact:
Nadine Kampen, CMU Communications & Marketing Director
nkampen@cmu.ca
Tel. 204.487.3300 Ext. 621