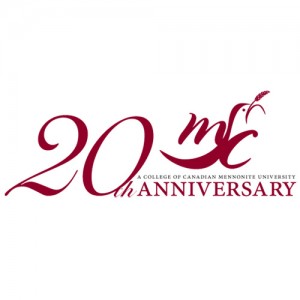 A respected leader in peace and conflict resolution and international development studies worldwide, CMU's Menno Simons College (MSC) began its 3rd decade with expressions of gratitude and confidence at its 20th Anniversary Celebration.  This special event was held November 12, 2010 at the West End Cultural Centre in Winnipeg.
Providing education flowing from Anabaptist Mennonite understandings of faith, peace, and justice while engaging other religious traditions and intellectual perspectives, MSC prepares students from diverse backgrounds for participation and leadership in local and global communities.
"The future is literally in our hands," said Menno Simons College Dean Richard McCutcheon.  "I hold an image of a world in which resources and education are channelled for the benefit of all people, where political and social action is guided by the principles of nonviolence and restorative justice.  I believe we all have a role to play in holding an image of a better future. Menno Simons College can be a vessel for nurturing our images and helping to bring them to fruition."
The 20th anniversary event began with a welcome reception at the West End Cultural Centre, with lively music provided by Papa Mombo.  The program, hosted by MSC Associate Vice-President Ruth Taronno, focused on the College's journey and impact.
"We are very excited about reaching this milestone," said Taronno.  "We have received excellent support and built solid relationships with many community organizations over the last 20 years. We appreciate this opportunity to reconnect with friends and alumni as we celebrate the unique culture and community of Menno Simons College!"
MSC was pleased to welcome 10 sponsor representatives to the event: IRCOM, MCIC, NEEDS Centre, MCC, LITE, John Howard Society, Mediation Services, Manitoba Interfaith Immigration Council Inc., Choices Youth Program, and Project Peacemakers.
During the program, speakers reflected on their own experiences at MSC and how these continue to shape their lives.
"In one of my first spring classes, there was a student from South Africa, a student from North Africa, a student from Palestine, a student from Latin America and our Professor was from Bangladesh," reflected 4th year Honours student Naomi Happychuk. "It really gave me a new understanding of interconnectedness, which I think is a core value here at Menno Simons College."
The program included a concert by Canadian performers Keith and Renee. Keith Macpherson, a former student and Renee Lamoureux performed songs related to conflict resolution and international development. Through the Free the Children Foundation, they have travelled and performed for two summers in Kenya, Africa, and Dubai and have also performed in 150 schools across Canada, speaking to youth about positive change. They shared songs, images, video, and personal stories of how these experiences changed their lives.
In addition to a retrospective slide show on MSC's first 20 years, the event included a future-oriented display – architectural plans illustrating major renovations scheduled for Spring 2012. Through a significant legacy gift from the David and Katherine Friesen Family Foundation, MSC purchased a 16,500-square-foot facility at 520 Portage Avenue.  Renovations to this space will create new and improved classrooms, student facilities, faculty and administrative offices, and spaces for meeting and dialogue.
For further information and reflections, refer to MSC Currents, Winter 2010.
Web posting January 28, 2011