Diversity enriches classroom, community experience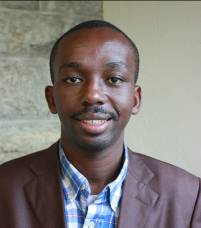 Since it first launched in June 2009, CMU's Canadian School of Peacebuilding (CSOP) has welcomed a diverse group of students from across Canada and U.S., and such countries as the Philippines, Palestine, Cameroon, Rwanda, Russia, Switzerland, and Australia.
First-time CSOP student Olivier Imbabazi, founder of the Kenya-based non-profit Hope and Action for Africa (HAFA), travelled from Kenya to CMU to take the Non-Violent Action Strategies for Social Change course in June 2011.
CSOP offers a selection of five-day peacebuilding-related courses over three weeks for professional/personal development or academic credit each June. Courses are open to anyone 21 years or older.
"Our vision is to gather peacebuilders from around the world," says Valerie Smith, CSOP co-director with Wendy Kroeker. "We want to serve existing networks and organizations working at peacebuilding. When we gather a diverse group of students, it enriches conversations and experiences in the classrooms and connections within the CSOP community."
Imbabazi learned about the school online through his work with HAFA, which is a sponsor of the CSOP.
"Given that Africa has gone through many violent conflicts and wars, it desperately needs change through non-violent strategies to peacebuilding," says Imbabazi of his reason for taking the course taught by George Lakey, a renowned professor, author, and peace activist. The ultimate goal of the course was to help participants become more skilled and effective in organizing non-violent actions.
For Imbabazi, who plans to attend CSOP again, this was his first time not only at CMU, but also in Canada. "My experience was wonderful—wonderful class, classmates, professors, and community," he shares.
"Students, international or local, often talk about their time at CSOP as a significant experience that changes their lives," says Smith. "And students who come from other countries to Canada for the first time often share about how their stereotypes of Westerners are broken."
While CSOP welcomes students worldwide, many international students face significant barriers to attending. For example, this year, CSOP received more than 300 applications—the majority of them international—but many were unable to attend due to issues with finances and visas.
"Because international applicants often face financial challenges or are denied visas, it's always exciting for us when someone is able to come," says Smith. Imbabazi applied late and was waiting for visa approval the weekend before Lakey's course started; he arrived a day late, but was still able to soak in the majority of the course.
Back home, Imbabazi will continue working with HAFA, which serves and works with refugee communities and vulnerable groups in Kenya. He plans to initiate a "Sponsor a Child" program and organize more peacebuilding training, especially in communities affected by conflicts and wars.
"We'll focus on how changes can be made not with guns, but with non-violent actions," he says.
For information about the 2012 Canadian School of Peacebuilding, including courses, instructors, and banquet details, visit www.cmu.ca/csop later this summer.
Canadian Mennonite University, through Menno Simons College (CMU's campus at The University of Winnipeg) and through its south Winnipeg Shaftesbury campus, offers one of the most comprehensive undergraduate programs in peace and conflict studies in the world. Located in Manitoba, CMU has over 1,700 students at its two campuses and enrolled through its Outtatown discipleship program. CMU is a member of the Association of Universities and Colleges of Canada.
Written by Carla Lowe for CMU
Photo:  CMU

For CSOP information, contact:
CSOP Co-director Valerie Smith
csop@cmu.ca; Tel. 204.487.3300 Ext. 316
Canadian School of Peacebuilding at CMU
500 Shaftesbury Blvd.
Winnipeg, MB R3P 2N2
www.cmu.ca/csop
For CMU information, contact:
Nadine Kampen, CMU Communications & Marketing Director
nkampen@cmu.ca; Tel. 204.487.3300 Ext. 621
Canadian Mennonite University
500 Shaftesbury Blvd.
Winnipeg, MB R3P 2N2
www.cmu.ca