Urban Farm Collective Launches First Season of Two-year Plan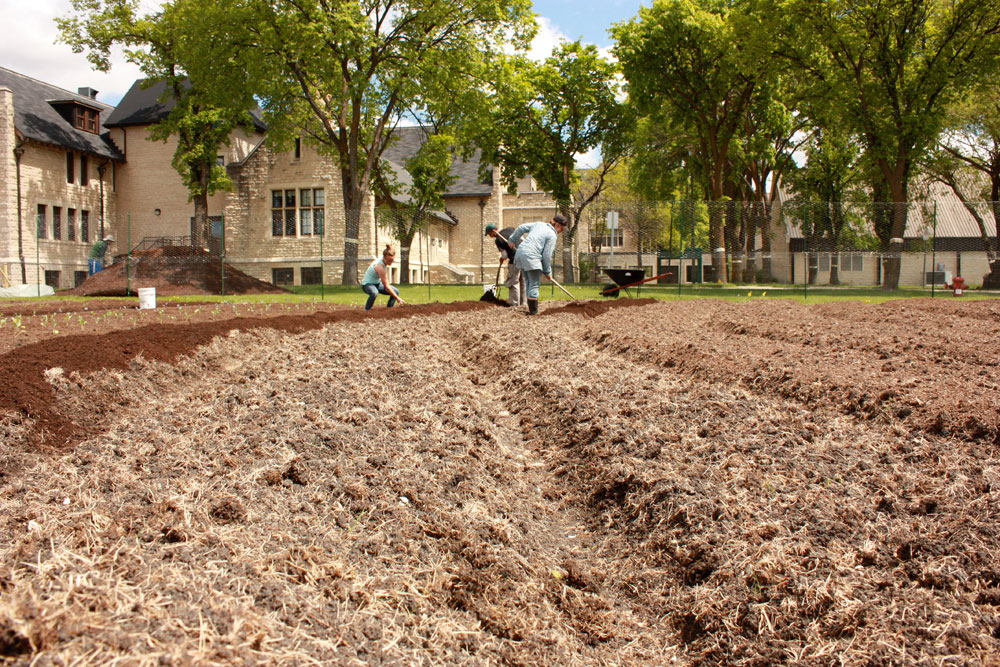 Spring 2011 marks the first season of CMU's new on-campus Community Shared Agriculture (CSA) Farm, a two-year collaborative urban farm project of the university and the CMU Farmers' Collective.
"The farm is a place of learning in which emerging farmers can practice the craft of land stewardship while growing healthy, local food for sharers," says Kenton Lobe, CMU International Development Studies (IDS) instructor and Farmers' Collective member. "I am ecstatic with the level of commitment from the farmers working on the project."
This project is the realization of a dream of Lobe and alumni DeLayne Toews and Megan Klassen-Wiebe, who are members of CMU Farmers' Collective and who, over several recent summers, worked on several small-scale farms in Manitoba and the East Coast and imagined what an urban, campus farm might look like at CMU, bringing the idea to fruition.  Other members of the Collective committed to farming this season are alumni Karin Coleman Neufeld, Kurt Lemky, Corinne Klassen, and MSC practicum student Jeanette Sivilay.
"The farm provides a real place in which to engage the issues of food security, land stewardship, and project development—all areas that I teach," Lobe says. "Having a place to experiment and imagine what the work looks like provides a rich context for learning by doing that really supports the academic curriculum of the university."
For this season, the CMU Farmers' Collective is selling 25 shares at $450 each, providing each sharer with a weekly box of fresh, seasonal vegetables starting mid-June for a projected 12-week timeframe. The farm is also growing a plot of corn to sell at a corn roast to support the work of Mennonite Central Committee, and will host a fall harvest celebration. Next year's work will involve clarifying linkages with university courses.
"The CMU Farm holds the potential to link the issues of global hunger with local and small-scale agriculture and to help us explore how the food we eat opens us to God's creation and connects us with others," says Lobe.
To read the Winnipeg Free Press July 30, 2011 article on the CMU community garden, click here.
Canadian Mennonite University (CMU) is a Christian university in the Anabaptist tradition, offering undergraduate degrees in arts and science, and such disciplines as business and organizational administration, communications and media, peace and conflict resolution studies, music and music therapy, theology, and church ministries, as well as graduate degrees in Theological Studies and Christian ministry. CMU is a Member of the Association of Universities and Colleges of Canada (AUCC). Located in Manitoba, CMU has over 1,700 students at its Shaftesbury Campus in Southwest Winnipeg, at Menno Simons College in downtown Winnipeg, and enrolled through Outtatown.

For more information or to reserve your share, contact:
The CMU Farmers' Collective, cmufarm@gmail.com
For CMU information, contact:
Nadine Kampen, Communications and Marketing Director
nkampen@cmu.ca
Tel. 204.487.3300, Toll free 877.231.4570
Canadian Mennonite University, 500 Shaftesbury Blvd.
Winnipeg, Manitoba, Canada R3P 2N2