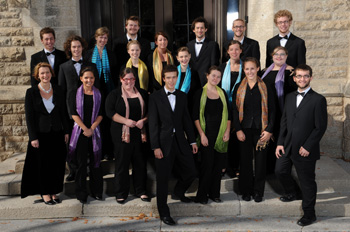 Choral music lovers and supporters of Canadian Mennonite University (CMU) are invited to celebrate CMU's 10th anniversary at two spring concerts being held to commemorate the occasion.
Westminster United Church, one of Winnipeg's heritage buildings, will host a concert on Saturday, March 26, at 7:30 p.m. The second concert will be held in Gretna, MB, at Mennonite Collegiate Institute's (MCI) Buhler Hall, on Sunday, March 27, at 3:00 p.m.
"Since this is our 10th anniversary, we felt that we would do something special for both constituencies," says Dylan Tarnowsky, Development Associate at CMU and event lead for the Westminster concert.
Both events, based on the theme "Hope, faith, life, love," will feature four CMU choral ensembles—the 40-voice CMU Singers, the 20-voice CMU Chamber Choir, the 50-voice CMU Women's Chorus, and the 30-voice CMU Men's Chorus—as well as various solo instrumentalists.
"The concerts will highlight CMU's choral tradition, not only of the last 10 years, but also the longstanding traditions of both Canadian Mennonite Bible College (CMBC) and Concord College/Mennonite Brethren Bible College (MBBC)," says Rudy Schellenberg, Associate Professor of Music and co-conductor of CMU's choirs.
"Invigorating choral partnerships provided strong links between CMBC and Concord College/MBBC long before CMU was imagined, and helped paved the way for CMU," adds Cheryl Pauls, Associate Professor of Piano and Music Theory. "The choral art continues to bring diverse voices together and to thrive in the CMU era."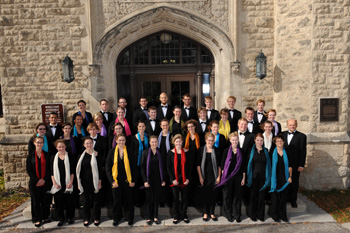 In honour of the anniversary, renowned Ontario composer Jeff Enns was commissioned to write a special celebratory piece for the CMU Singers and Chamber Choir to perform together. The piece, "What Does the Lord Require of You?," is based on a Micah 6.8-themed text penned by California Mennonite writer/poet Jean Janzen.
The Westminster concert is a ticketed event; $20.00 for adults and $10.00 for students. Tickets are available at CMU's reception desks, at the door, and online at www.cmu.ca/choralconcert.
"I'm looking forward to hearing our choirs sing in that magnificent space," Tarnowsky says of the Westminster concert. "The acoustics are supposed to be incredible. This will be a 'night on the town' for Winnipeggers who love choral music to come and experience CMU through song."
There is no admission charge for the MCI concert; however, there will be an opportunity to contribute to the work of CMU. This concert will also include some additional programming to include personal reflections and multimedia presentations related to the 10th anniversary, as well as refreshments.
"The MCI event is a time to bring CMU to Southern Manitoba, to reaffirm our connection with our supporters in this region of the province, and to celebrate how much we've achieved together in 10 years," says Tarnowsky. "I think the event will be a wonderful blend of personal reflection, special music, and insight into all the innovations that CMU brings to the higher education 'table' in Manitoba."
Schellenberg says a highlight of both concerts will be hearing and participating in a great variety of outstanding choral music, both new and familiar. "Singing together, whether in the congregation or the choir, is a profound participatory experience," he says. "It unites us in a common purpose and faith in God that few other expressions can."
For more information about CMU's 10th anniversary spring concerts, please go to www.cmu.ca/choralconcert or call 487-3300 x607.