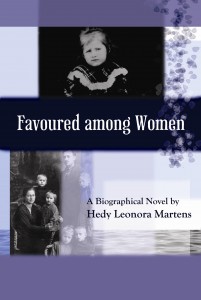 CMU Press and the Mennonite Heritage Village in Steinbach present Hedy Martens, author of Favoured among Women, for a reading and signing on Sunday, September 18, 3:00 pm. Steinbach Mennonite Heritage Village Multi-Purpose Room (Village Centre).  Brief reception to follow. 
This vibrant and unusual re-creation of one woman's life is the result of years of painstaking research and interviews. Favoured among Women combines biography, personal reflection, poetry, historical commentary, and (above all) vivid storytelling. We meet Greta Enns as a curious, observant, and compassionate child born in peaceful times which are soon torn asunder. Her life becomes one of hardship and the utter confusion of war, but one also marked by profound religious hope, as well as love and joy.
This is a novel both epic and intimate, dramatically presenting daily life in Leninist and Stalinist Russia in the first decades of the twentieth century. This is Volume One of The Story of Greta Enns.
"A detailed and touching portrait of a Mennonite woman during the harsh early years of Soviet Russia… Martens' passion for her subject is obvious."
The Winnipeg Free Press
"Martens' voice is not an intrusive, distracting one, but rather one that belongs to and enriches the narrative…I can hardly wait for Volume Two to appear."
The Mennonite Historian
Hedy Leonora Martens is a marriage and family therapist living in Winnipeg. A child of immigrant parents, she grew up roaming the hills of Saskatchewan spinning fantasies which she shared with her younger siblings and now shares with her grandchildren. As an adult, she has continued writing stories, poems, articles, and dramas, including the federal government report An Eco-Systemic Approach to Family Violence and Related Recidivism; a children's story, No One To Talk To; and a series of talks, Myths We Live and Die By.
For more information about this event, please contact Annalee at cmupress@cmu.ca or Marigold at the Mennonite Heritage Village: marigoldp@mhv.ca
For directions to the Mennonite Heritage Village, click here: http://www.mennoniteheritagevillage.com/location.html
To order Favoured among Women, please contact the CMU Bookstore at cmubookstore@cmu.ca or visit MennoMedia's online store: http://store.mpn.net
For information about CMU Press, please visit www.cmu.ca/cmupress