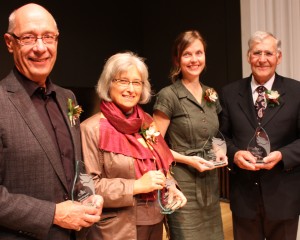 September 30, 2011 – Canadian Mennonite University on September 30 recognized four Distinguished Alumni at a special presentation during its Fall Festival 2011.
"We are very proud of our Distinguished Alumni," says CMU President Gerald Gerbrandt.  "It is gratifying to see how our alumni have been shaped by their education, and how, years later, they continue to demonstrate their understanding, creativity, leadership, and Christian faith in their everyday lives and professions.  Their achievements and contributions are outstanding. We congratulate this year's CMU Blazer Distinguished Alumni Award winners – Lois Coleman Neufeld, Judith Klassen, David Loewen, and Robert Wedel."
2011 Blazer Distinguished Alumni Award Winners
Lois Coleman Neufeld (MBBC '80) 
Lois Coleman Neufeld attended Mennonite Brethren Bible College (MBBC, a founding college of CMU) – which she describes as being "one of only a few Bible schools offering university credit at the time." She graduated in 1980.
Coleman Neufeld and husband Robert served with Mennonite Brethren Mission/Services in the Democratic Republic of the Congo (formerly Zaire). An initial three-year term ended up being a meaningful eleven years learning and serving together with the local churches and partner agencies.
Later, Coleman Neufeld served as Mennonite Central Committee's Country Representative in Zambia for six years.
After serving in Africa for seventeen years, the family moved back to Canada. For eight years, Coleman Neufeld was the Director of National Programs for Mennonite Central Committee Canada. In her current role as executive director of Mediation Services, she enjoys the opportunity to explore perspectives of how people handle justice issues in the world beyond the church.
A self-proclaimed life-long learner, Coleman Neufeld continued to explore her interests in leadership, organizational change, and gender issues over the years. She recently earned a Master of Arts degree in Leadership from Trinity Western University.
 Coleman Neufeld worships with parishioners of River East MB Church.  Her passion for the church and love for community is also evident in her eight years of service on CMU's board.  Coleman Neufeld and husband Robert Neufeld met at MBBC. They have three adult children and a granddaughter.
Judith Klassen (CMBC '97)
The desire to study peace theology while also pursuing musical performance led Judith Klassen to study at Canadian Mennonite Bible College (CMBC, a founding college of CMU). Klassen was impressed with how faculty and staff were "people who cared and took time for students. There was a holistic approach to education."
Klassen completed a PhD at Memorial University of Newfoundland in 2008, where she was awarded the Governor General's Gold Medal in Graduate Studies. Her doctoral research explored faithful defiance in the musical practices of Mennonites in northern Mexico; other research interests include music and creative protest in sites of conflict.
An ethnomusicologist and violist, Klassen who recently took the post of Curator, Canadian Music at the Canadian Museum of Civilization in Gatineau, QC. She has worked as a freelance musician in chamber ensembles and orchestras across Canada, as a violin instructor in Canada, Mexico, and Paraguay, and as a lecturer in music at CMU and the University of Manitoba. More recently, she collaborated with the Mennonite Heritage Village in Steinbach, MB on the exhibit Singing in Time: Music and Mennonites.
Klassen is active in her community, providing leadership on a number of boards and collaborating with musicians on various projects. One such project includes the folk duo, The Land, which Klassen co-founded with her husband Simon Neufeld. Klassen and Neufeld are members of Covenant Mennonite Church.
David Loewen (MBBC '61)
Dave Loewen graduated with a Bachelor of Theology from MBBC in 1961. The following summer Loewen began his career in camping ministries at Camp Arnes. With further studies at Manitoba Teachers College and Waterloo Lutheran University (now Wilfrid Laurier University), Loewen juggled school in winter and camp in summer for a number of years.
With over twenty years of service, Loewen is well known for his leadership at Camp Arnes. During this period at Arnes, Loewen served terms as president of the Manitoba Camping Association, president of Christian Camping International/Canada, and secretary of Christian Camping International/Worldwide. In these undertakings, Loewen learned to know many leaders in the field with whom he shared and from whom he gleaned insights in camping ministry.
Loewen founded Kingdom Ventures Inc. in 1990 and has served as director for more than 20 years. Kingdom Ventures is a faith-based organization focused on training Christian youth camp leaders in the former Soviet Union. In addition, Kingdom Ventures manages the Christian Camping International initiatives in Russia, Ukraine, and Georgia.
Loewen is married to Elfrieda (Epp). They have three children and six grandchildren. Loewen and Elfrieda are members at The Church at Pine Ridge.
Robert John Wedel (CMBC '69)
Robert Wedel completed a degree at CMBC in 1969. From here, he went on to the University of Calgary to study medicine. After completing a two-year residency in Family Practice at Dalhousie University in Halifax, Wedel settled in Taber, Alberta.
A family physician for over 35 years, Wedel is past-president of the National College of Family Physicians of Canada, the recipient of the 2010 Alberta Rural Physician Award of Distinction, and the recipient of the 2010 W. Victor Johnson Award. Some recent involvements for Wedel include Medical Director for the Chinook Palliative Care Program, Associate Clinical Professor in the Departments of Family Medicine at the Universities of Calgary and Alberta, and Chair of the National Advisory Committee on Family Practice with the College of Family Physicians of Canada.
Wedel has appreciated the opportunity, afforded by his profession, "to advance quality improvement initiatives within my practice as a family physician and as a palliative physician, " he says, "as well as system-wide across the country."
 Wedel met his wife Marilynn Harder while they studied at CMBC; they have two adult children: music teacher Gina Wedel (CMBC '97) and Registered Nurse Nic Wedel (CMBC 1996-1997) and three grandchildren.  Robert and Marilynn Wedel are members at Coaldale Mennonite Church.
Also receiving an award on September 30 was artist and curator Ray Dirks (see news release of September 30, 2011). Dirks is the recipient of the 2011 CMU Blazer Distinguished Community Service Award.
Following the presentation of awards, the Festival program included a faculty lecture, "It's not only about you:  Theology and human Rights," by Dr. Paul Doerksen, with a response by Dr. John Derksen. Music from Quartet from the End of Time by Olivier Messiaen was woven into the presentation.
 As well, CMU sports fans had the opportunity on September 30 to enjoy exhibition volleyball games in CMU's Loewen Athletic Centre.