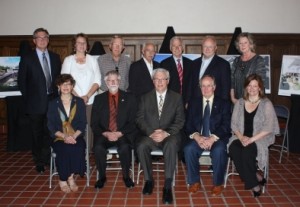 June 15, 2012 – Canadian Mennonite University (CMU) President Gerald Gerbrandt today announced plans for a major new university capital project that will significantly enhance CMU's infrastructure for delivering quality post-secondary education. This important new campus asset will also serve as a valuable resource to the broader Manitoba community.
 "In 12 short years since CMU purchased its buildings and land from the Province and merged the assets of existing Mennonite colleges, CMU has established itself as a dynamic university with growing credibility," says Gerbrandt.  "Its Christian and Anabaptist commitments provide the foundation for a truly unique Canadian university serving church and community. Now, CMU is building on its momentum, putting in place the building blocks for increased future impact."
Bringing congratulations to CMU around this capital project were Premier Greg Selinger and Acting Deputy Mayor and Charleswood Tuxedo Councillor Paula Havixbeck, along with a number of other guests and supporters of the project.  Two years ago, the University celebrated completion of another capital project that saw construction of a new CMU Science Laboratory on the University's Shaftesbury campus. In fall 2011, CMU announced donor funding of $6.5-to $7.5-million to establish its CMU Redekop School of Business.
"Building the new CMU Library and Learning Commons, along with a pedestrian bridge linking both sides of CMU's Shaftesbury campus, are key next steps in building a CMU for the future," says Elmer Hildebrand, fundraising campaign chair for the capital project and CEO of Golden West Radio.
"CMU is grateful for the dedicated and effective fundraising leadership of the Campaign Executive of CONNECT: The Campaign for CMU," says Gerbrandt. "We're looking forward to our public campaign in the coming months and sharing further announcements from our Campaign team."
Chair Elmer Hildebrand is joined in his efforts by the CONNECT Campaign Executive Members Art DeFehr, Philipp R. Ens, Bill Fast, Janice Filmon, Bert Friesen, Charles Loewen, Jake Rempel, and Tamara Roehr.
"Today, as we announce our plans to construct this library and learning commons along with the pedestrian bridge, we are pleased to name those who are helping us with this project," says Gerbrandt. "The architects for the project are ft3. They have done much work designing both a functional and a simple and exciting design. We have selected Concord Projects as the contractor; they have been working closely with us and the architects in readiness to proceed with this project."
 Features of the New Library and Learning Commons
The Library and Learning Commons will greatly enhance the CMU learning environment for students, faculty, and the general public.
Study carrels, worktables, and lounge seating in attractive setting will stimulate students to connect with ideas and thinkers from around the world.
Small group rooms will invite students to work together in teams at important questions and issues.
New computer, wireless, and peripheral technologies will support study, research, and collaboration.
A seminar room will enable small classes to meet in proximity to necessary library resources.
Significantly increased space with natural light and controlled temperature and humidity will allow future expansion and growth.
The Library and Learning Commons will include a prominent and welcoming entrance and gathering area (Library Centre), inviting students and the general public to make use of its resources.
It will feature a Bookstore and Resource Centre with the most extensive selection of theological resources anywhere in the province.
An inviting café will welcome students, faculty, staff, and members of the community to gather and discuss the issues of the day.
An attractive Pedestrian Bridge will link the two sides of CMU's campus, currently partitioned by a busy thoroughfare, providing a safe, accessible route across Grant Avenue. It will also signal the presence of CMU in the community, serving as a symbol for an institution that connects people with ideas and each other over issues that matter.
The Campaign Executive has been actively fundraising in support of the project and expects to publicly launch the CONNECT campaign within the year. CMU anticipates beginning construction on the new facility and bridge in 2013.
Photo indenty: Canadian Mennonite University on June 15, 2012 announced an $11-million capital project – a new Library and Learning Commons, and Pedestrian Bridge. Joining in the announcement were: (front row, l. to r.) CMU President-Elect Cheryl Pauls, CMU President Gerald Gerbrandt, Premier of Manitoba Greg Selinger, CONNECT Campaign Chair Elmer Hildebrand, Acting Deputy Mayor Paula Havixbeck, Councillor for Charleswood Tuxedo; (back row, l to r), CMU Vice President External Terry Schellenberg, and Campaign Executive Members Tamara Roehr, Bill Fast, Jake Rempel, Bert Friesen, Charles Loewen, and Janice Filmon. (Missing from photograph: Campaign Executive Members Art DeFehr and Philipp R. Ens)