For the fifth annual Professor Bach Project, co-artistic directors Rosemarie van der Hooft and Mel Braun have teamed up with Dr. Dietrich Bartel, Musicology Professor and Dr. Janet Brenneman, conductor and Dean of Canadian Mennonite University's School of Music, to offer a unique experience of Bach's music.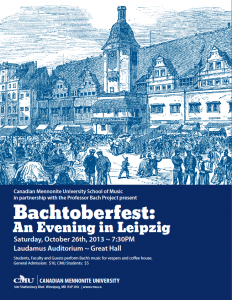 Hosted by Canadian Mennonite University (CMU), Bachtoberfest: An Evening in Leipzig will transport audience members to 18th century Germany. Beginning in the Laudamus Auditorium with Vespers at Thomaskirche, Bach's Cantata BWV 78 Jesu, der du meine Seele will be presented in its liturgical setting.
Then, as was customary upon leaving the Thomaskirche, the audience will retire to Zimmermann's Kaffeehaus (also known as CMU's Great Hall) for coffee and dessert, along with varied interpretations of Bach's secular music – think solo Bach, Hercules, Jazz, and Beatboxing.
Following the mentorship model of the Professor Bach Project, performances will feature professional and student musicians and singers collaborating together, and new for this year, a CMU alumni choir.
Experience Bachtoberfest: An Evening in Leipzig at Canadian Mennonite University (500 Shaftesbury Blvd., Winnipeg) on Saturday, October 26 at 7:30 PM.
General Admission $10 | CMU Students $5
For more information, please contact:
Rose van der Hooft, Music Instructor
School of Music, Canadian Mennonite University
500 Shaftesbury Blvd., Winnipeg, MB  R3P 2N2
Phone: 204.487.3300