Canadian Mennonite University's School of Music presents Bachtoberfest: An Evening in Leipzig.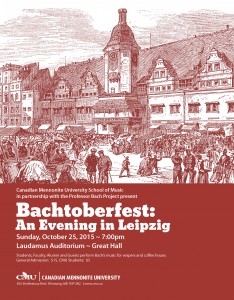 This presentation of Bachtoberfest, the second biennial Bach event at CMU, will take classical music lovers back to 18th century Germany with performances by music faculty, students, alumni, and guests led by Dr. Janet Brenneman and Rosemarie van der Hooft.
The evening will start in CMU's Laudamus Auditorum for Vespers at Thomaskirche, where Bach's uplifting Cantata BWV 70 Wachet, Betet, Betet, Wachet will be presented in its liturgical setting with readings and reflections by Dr. Sue Sorensen and Dr. Dietrich Bartel. Then, as was customary upon leaving the Thomaskirche, the audience will make its way to Zimmermann's Kaffeehaus in CMU's Great Hall to enjoy coffee and German desserts while listening to portions of popular secular works—the Goldberg Variations and the Hunting Cantata, as well as arrangements of Bach for jazz guitar duo.
Bachtoberfest: An Evening in Leipzig will take place on Sunday, October 25 at 7:00 PM at 500 Shaftesbury Blvd. General admission is $10, $5 for students. Everyone is welcome to attend.
For further information, contact Rosemarie van der Hooft at rvanderhooft@cmu.ca.
About CMU
A Christian university in the Anabaptist tradition, CMU's Shaftesbury campus offers undergraduate degrees in arts, business, humanities, music, sciences, and social sciences, as well as graduate degrees in theology, ministry, peacebuilding and collaborative development, and an MBA. CMU has over 800 full-time equivalent students, including those enrolled in degree programs at the Shaftesbury and Menno Simons College campuses and in its Outtatown certificate program. 
For information about CMU visit www.cmu.ca.
For additional information, please contact:
Kevin Kilbrei, Director of Communications & Marketing
kkilbrei@cmu.ca; 204.487.3300 Ext. 621
Canadian Mennonite University
500 Shaftesbury Blvd., Winnipeg, MB  R3P 2N2