Winnipeg, May 1, 2013 – Four choirs from Canadian Mennonite University's School of Music presented a concert celebrating the mystery and wonder of music Saturday night.
"We often use words like wonder and mystery to describe our experiences of music," said CMU President Dr. Cheryl Pauls. "But we also connect a sense of wonder and mystery with those places where we experience the spirit of the Lord."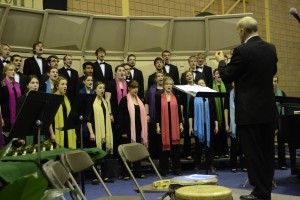 The phrase Where the Spirit of the Lord Is provided the overall theme for the evening, and was also the theme for all CMU chapel services this year.
The theme was highlighted by the performance of Psalm 46 by the CMU Singers, composed by CMU faculty member Timothy Corlis.
Commissioned for CMU's Worship + Imagination conference in February, the piece features a variety of percussion instruments, including handbells and a gong.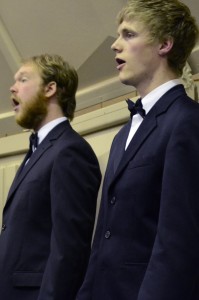 Dr. Janet Brenneman is Dean of the School of Music at CMU and conducts the CMU Women's Chorus and the CMU Chamber Choir.
"We are proud of the way our students continue to carry on CMU's rich tradition of choral music," she said.
"It's exciting to see so many students engaging with choral music at such a high level. This year's spring concert was an exceptional performance and a wonderful inclusion to the weekend's graduation ceremonies."