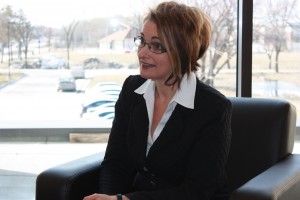 Dr. Janet Brenneman, Associate Professor of Music and Dean of the School of Music, has taught at CMU since 2001.
What do you love about your work here?
One of the things that I love about working here is that I can continue to explore, work through, and express the deep connection between music and my faith. Faith and music have always been integral in my life, and to be able to bring that into an academic setting is something I really appreciate about this particular place.
What are you teaching right now that most excites you?
This is the first year I'm teaching a conducting class and it has become a source of great joy for me. It's fun watching students explore the ways they can invite sound through gesture to create something they're wanting to hear.
What are you researching and writing right now?
In May, I'm headed to Edmonton, AB to attend Podium, Choral Canada's annual conference. At the conference, I will be part of a panel of women choral conductors discussing community building and leadership, and what that means for women on the podium. I focused my doctoral dissertation on gender issues and the formative experiences of women choral conductors, so I'm looking forward to getting back into that research and exploring it further in preparation for the conference.
What are you reading for enjoyment?
I'm reading Ru by Kim Thúy, which won the CBC's Canada Reads: One Book to Break Barriers competition last year. It's based on the author's experiences of having to leave Saigon, and then spending time in a refugee camp in Malaysia before finally settling in Quebec. This is in the '70s during the Vietnam War. I remember that time because there were refugees that came from Vietnam and settled in my hometown of Wellesley, ON. I remember clearly how that impacted our community, and how the community responded to that.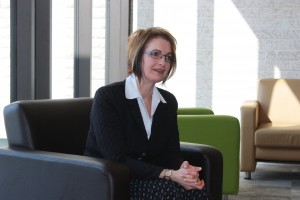 What do you most long for in your work?
I long for students to feel as though they've been challenged and pushed, but also nurtured along the way. I want students to feel that they have a voice and that they've had opportunity for that voice to develop and grow. I've seen that happen. I've seen students come in who have been quite shy, quite introverted, and I think we have allowed them to really bring out the best in themselves, whatever that is. I want it to be individualized. I want them to feel they can be genuine and open in their music making.
What saying or motto inspires you?
American poet and feminist Adrienne Rich said, "[Y]ou cannot afford to think of being here to receive an education: you will do much better to think of being here to claim one." What I take this to mean is that you have to be proactive. You have to put into something what it is that you want to get out of it. Education is this reciprocal kind of relationship—you can't simply expect yourself to be fed without also helping to prepare and be part of the process.