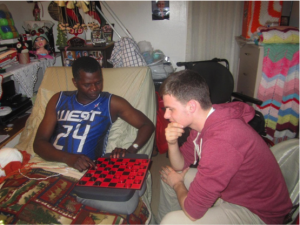 By Nolan Kehler
In Dieudonne's small apartment, there is a colorful menagerie of crocheted animals – elephants, frogs, and cats. He sells them for $15 each. Crocheting is one of the few things Dieudonne can do to make money. He is paralyzed from the waist down.
Dieudonne is a 40-year-old immigrant from Burundi, a small country in central Africa and one of the five poorest nations in the world. He was sponsored to come to the rural community of Altona, Man., by Build a Village, an organization that partners with Mennonite Central Committee in bringing refugees to Canada.
Darlene Enns-Dyck is a member of the organization, and also the pastor of Dieudonne's home congregation, Seeds Community Church. She recalls the process to bring Dieudonne to Canada was difficult.
"We were asked many times, 'Are you sure? Do you have the community support?', but we really needed to step into this," Enns-Dyck says.
She points to a Bible verse from Matthew that guides the organization: "'Truly I tell you, whatever you did for one of the least of these brothers and sisters of mine, you did for me.'"
"Dieudonne is the least of these," Enns-Dyck says. "We were sure God would come alongside him."
Dieudonne grew up in Burundi, living on his parents' farm and never going to school. After he left home at the age of 18, the government imprisoned him during ethnic violence in the early 1990s.
Dieudonne, however, felt fortunate to be in jail.
"If you were in jail and you didn't do anything wrong, you were fine," he says of his time there.
He was there for eight years, and still managed to work.
"I washed clothes for the rich. Rich people can't wash their clothes themselves," he chuckles.
He was released from prison in 2002, but he didn't return to his family.
"I haven't seen my parents since I left home," he says. "They don't think about me."
He does not tell the story of his father. But Dieudonne's friend, Marlous Fehr, goes into more detail, describing how Dieudonne's father was murdered when his neighbour poisoned him last year.
Dieudonne was in a refugee camp in Tanzania when he was paralyzed. He climbed a tree to get firewood but fell out of the tree, landing on his neck. He was rushed to a hospital, which became his home for six years.
"I wanted to do something," he says. "I decided to find a way to use my hands."
This was when he learned to crochet.
It was as a result of his paralysis that he came to Canada.
"The doctor asked me if I want to go to Canada, and I said, 'Yeah, sure.' I didn't plan anything."
Fehr explains that the doctors said, "Go to Canada, they can help".
Dieudonne soon learned how important it is to stay warm in a Manitoba winter. He remembers receiving his first winter clothing when he arrived in Canada from the refugee camp in Tanzania.
"They gave me a big jacket and a big hat," he chuckles. "They tried to put boots on, but my feet didn't work."
He has been here now for almost five years, and the doctors have told him that they can't do anything about his paralysis.
"All he wanted was to fix his back," Fehr says. "We can just bring him food and play games. We're not doctors."
"He's had to deal with some dashed hopes," Enns-Dyck adds.
But Dieudonne hasn't given up on a cure. During an interview, he displays a new business card that he acquired for a spine specialist in Germany.
"I am going to walk soon," he says with a big grin on his face.
Dieudonne has had a positive impact on those around him since he arrived in Altona.
"It's been fun to watch him experience new things," Enns-Dyck says. "He likes to eat with people and throw parties. He has been an incredible blessing to the community. I'm glad we took the plunge."
Nolan Kehler is a student at CMU. This article was written as part of his coursework.