By Laura Tait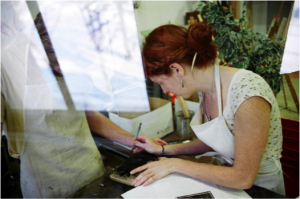 For many, room 300-A remains a mystery – an enigma hidden away on the third floor of CMU's North Campus. Most only know it as the entrance to CMU's obscure art room.  But for alumnus and artist Kristina Blackwood, the door to room 300-A is the gateway to the universities greatest hidden gem – the printing press.
For Blackwood, the press draws on a tradition of intentionality, of working with your hands, where all print decisions took careful deliberation and mindfulness, and not just the click of a computer button.
"I love printmaking; physically setting type with your hands then printing it," Blackwood says. "When I'm setting type, I'm part of the same tradition that people hundreds of years ago were."
The only university-owned printing press in operation on the prairies, CMU's press has been instrumental in providing students and staff with a unique experience and understanding of printmaking.
The press has been used in a number of ways, from student linocut and typography projects, to the 2008 edition of Soul in Paraphrase, an annual student literary journal sponsored by the university's English department.In keeping with CMU's emphasis on bringing faith and practice together, the press provides an important space for hands-on learning.
Through the efforts of English Professor Paul Dyck, the 50-year-old printing press was given to CMU from the University of Manitoba in 2004 when the U of M was getting rid of its presses to make room for newer, modern printing technology. Dyck acquired the press at no cost and much of the type was donated to the school.
The press is a hand-operated unit, used traditionally for image printing and proof printing text before it was sent to larger printing units. As such, each print is unique in that it may turn out just a bit different from the last with every turn of the crank.
While other universities were looking forward to faster and more efficient printing methods, Dyck was interested in taking a step back to find out how his favorite historical literature was created.
"I always wanted a printing press because of my interest in book history," Dyck says. "I'm a hands-on person. I like to try things for myself not just read about them, but actually engage with the material."
Upon acquiring the printing press, Dyck began incorporating his love for the hands-on into his class History of the Book. In this class, students learn the history of book-making and get to work with the press, creating their own prints at the end of the semester.
It was in Dyck's class in 2011 that Blackwood was first introduced to the printing press. Like Dyck, she was interested in taking a step back and finding out where the book came from. Through working with the press she was able to exercise her love for working with her hands and her appreciation for detail.
"Every choice you make is very deliberate: how wide your text is, your font, kerning, and leading," Blackwood says. "There is a lot of planning that goes into it."
For Blackwood and Dyck, the detail and intentionality that goes into working with the printing press is a response to an age of technology that favours quick, efficient, and fluid writing surfaces.
Word processing programs on computers allow you to switch fonts quickly and adjust images at the click of a button. The printing press, on the other hand, requires careful thought and commitment to the type and images you print. This commitment often results in mistakes that take a lot more time and fussing than on a computer.
This fussing, however, is part of Blackwood's love for the press. She believes that it is through this fussing that she gets to know her work better. Part of getting to know her work means getting to know more about the history of her medium and typography.
"It's important to know where things come from. For example, upper case letters are named because in the print room the capital letters were in the upper drawer and the small letters in the lower drawer," said Blackwood.
The printing press offers a unique perspective for students – a space to slow down in a fast-paced society. A space to work with your hands, create something original, and bring faith and practice together.
For Dyck and Blackwood, the press is a reminder of where we have come from and where we are going.
"Technology is important, but we should never forget where it comes from," Blackwood says.
For more information about CMU's printing press, contact Paul Dyck at pdyck@cmu.ca.
Laura Tait is a student at CMU. This article was written as part of her coursework.