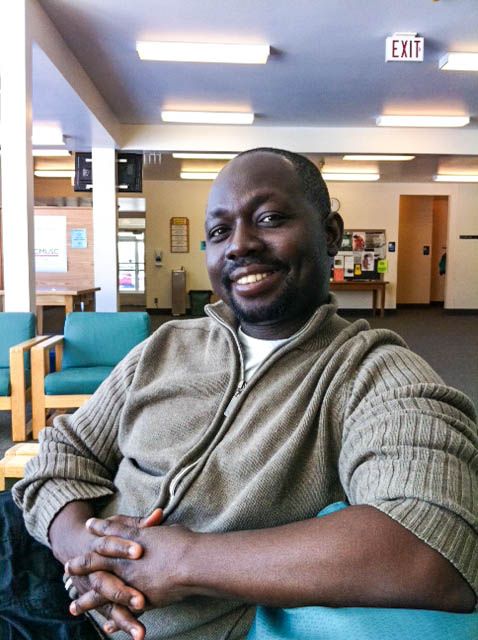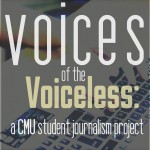 By Bethany Penner
Canada is known as a land of plenty but, through the eyes of a newcomer, it's not necessarily the land of happiness.
Paulin Bossou and his family moved to Winnipeg from Africa two years ago, and he has seen beyond Canada's relative affluence and materialism.
"People are not living very well here," the Canadian Mennonite University student said in an interview. "They have money and infrastructure, but people are not happy here. There is a lack
 of something. Money and the other things that we strive after does not bring happiness."
Bossou had worked for a home for disadvantaged children, La Casa Grande Benin, in Benin, West Africa, for the past 10 years. He, his wife and their two children felt it was time to try something new and they were drawn to Manitoba by a Mennonite connection. In Benin, he was associated with a Mennonite church, and Bossou was fascinated and curious about Mennonites. He had heard that Canada—Manitoba in particular—had an abundance of Mennonites and this brought the family to Winnipeg.
One big difference between Benin and Canada is how people choose to use their time, Bossou said.
"In Benin, I had enough time to share my time with other people and help other people. But here, this time doesn't exist. People are rushing and looking for money and they are not living."
Bossou also expressed concern that many people in Canada appear to live their faith on a shallow level.
"The environment here does not help to make a good Christian. For me, to be a Christian does not mean to just go to church, but is to participate in the life of the community. Here it is an option to go to church or be part of the community. But not for me."
To him, being a Christian means spending time with people, enjoying life and sharing experiences with others. It also means taking the necessary time to worship God and grow in faith, which means giving God more than one hour on Sunday mornings.
God has had a huge impact on the Bossou family and their immersion in the radically different culture of Canada. Bossou says he has learned the importance of trusting God to the fullest. 
"I discovered that people don't want to depend on God because they have many opportunities to do things themselves. If you can do something by yourself, you do not expect another person to do it. They try to be rational, instead of using faith."
As Bossou studies at CMU, his wife studies at St. Boniface University in Winnipeg. The family plans to return to Benin next year, where Bossou will continue being the director of La Casa Grande Benin, a home for children, including those who have lost parents due to AIDS. The ministrybegan in 2000 as a partnership between the Burgos Mennonite Church and Mennonite Board of Missions, a predecessor agency of Mennonite Mission Network.
Bossou said he will return to Africa with many positive experiences in Canada.
"Here is good, but not the place for me. For us, it is a privilege to be here and learn more about this country and share what we have learned with other people. It is a dream or something special to come and live in this country and now we will share it with our friends."

Bethany Penner is a student at Canadian Mennonite University. She wrote this article as part of her work in the course Journalism—Principles and Practices. "Voices of the Voiceless" is a class project that aims to chronicle the humanity of often-ignored people on the margins of our community.