Four outstanding young women have been awarded CMU's Leadership Scholarship: Kayla Drudge, a homeschool graduate from Winnipeg; Tegan Radcliffe, a Rivers Collegiate graduate from Cardale, MB; Laura Carr-Pries of Rockway Mennonite Collegiate in Waterloo, ON; and Jasmine Bhullar of Miles MacDonell Collegiate in Winnipeg.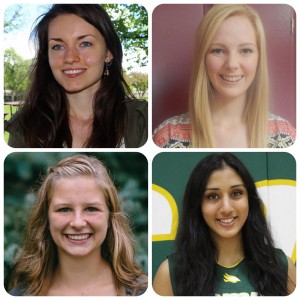 The Leadership Scholarship, worth up to $14,000 distributed over four years, is offered to recent high school grads displaying significant leadership ability, academic excellence, personal character, vision and a commitment to service. Preference is often given to students demonstrating a broad range of skills and interests.
Students applying for CMU's Leadership Scholarship are required to provide a resume of their leadership involvement in a variety of areas, along with two letters of recommendation and an essay reflecting on a leader who inspires them.
Chosen leaders included Shane Claiborne, Mother Theresa, Nelson Mandela, and every-day leaders from the winners' personal lives.
All four of this year's recipients demonstrated a strong grasp of the variable nature of leadership, and a commitment to leading in prominent or background capacities as needed with humility and grace. Some expressed a commitment to servant leadership within the church, and all share a love for sport, volunteering, and the arts.