Donor reflects on why he and his family give their financial support to CMU
The endowment for a Canadian Mennonite University (CMU) scholarship honouring a Russian Mennonite scholar whose life was cut tragically short has reached six figures.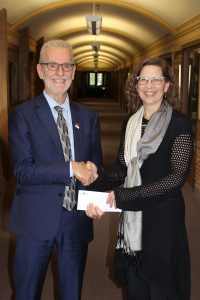 Ted Fransen presented a cheque to CMU President Dr. Cheryl Pauls in September, bringing the endowment for the Jacob A. Rempel Memorial Scholarship to $100,000. Fransen is one of Rempel's grandsons.
The scholarship awards $5,000 annually to a student pursuing a Master's degree in CMU's Graduate School of Theology and Ministry.
Seeing the endowment reach the $100,000-mark is satisfying, Fransen said, noting that every branch of his grandfather's family has contributed to the scholarship since it was established in 2000.
"I feel a sense of tremendous satisfaction that the legacy of our grandfather has had that kind of impact, where people in our family believe so strongly that the legacy needs to be remembered and memorialized," Fransen said. "I feel just an overwhelming sense of gratitude."
CMU shares that gratitude, said Abram Bergen, Development Associate.
"CMU is thankful to the family of Jacob A. Rempel for their generous support of the university," Bergen said. "I have watched this endowment increase by $60,000 over the past decade, and the earnings now provide a substantial scholarship."
"I've seen the impact this scholarship has had as recipients have taken on significant roles in church and community after graduating from CMU," Bergen added. "When the award is significant—$5,000 in this case—it makes a lot of difference to a student who is able to then focus more fully on their studies, rather than think about how they're going to pay for their tuition."
Fransen and his extended family created the scholarship to honour the memory and legacy of Rempel, a leader of the Mennonite churches of Ukraine/Russia.
Rempel started out as a poor stable boy but eventually became a university professor.
He did this with an enduring faith as he followed God's leading hand, applied his own abilities, and was encouraged by the generous financial assistance of a wealthy supporter.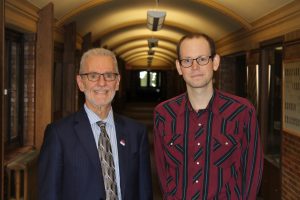 Rempel's life was cut short on Sept. 11, 1941 when he was executed for his beliefs under Joseph Stalin's dictatorship.
Rempel's family is grateful that someone noticed a "diamond in the rough" in that stable boy and provided the means for his education.
Through the Jacob A. Rempel Memorial Scholarship, the family wishes to encourage students who show academic promise and a strong interest and aptitude for church ministry.
Joshua Nightingale, who is completing his Master's degree during the 2017-18 school year, is the most recent recipient of the scholarship.
Nightingale said he appreciates the money he received.
"It meant that I didn't have to work this past summer and could focus on writing my thesis," said Nightingale, whose thesis wrestles with the presence and absence of God for those who have experienced trauma.
Nightingale hopes to eventually go on to doctoral studies.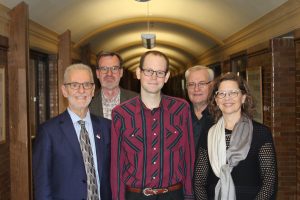 Fransen said he feels a warm sense of appreciation meeting and hearing from students like Nightingale who have benefited from the scholarship, as well as a sense of optimism that the future is in good hands.
"These are well-meaning, purposeful, intelligent people who are honouring the wishes of the scholarship and moving forward in theological studies," Fransen said. "In other words, the scholarship is doing its job: it's encouraging young men and women of faith to pursue theological studies so that they can serve the church."
Fransen added that he appreciates CMU for continuing to provide an excellent theological program.
"There's a sense of alignment between the purpose of the scholarship, the legacy of our grandfather, and the purpose of CMU," he said. "It's a great alignment."
If you'd like support CMU, please visit www.cmu.ca/donate.