Global economic crises throughout the world over the past few years, what they mean for society and what the future holds are some of the topics that Jeff Huebner will explore at Canadian Mennonite University's next Face2Face event.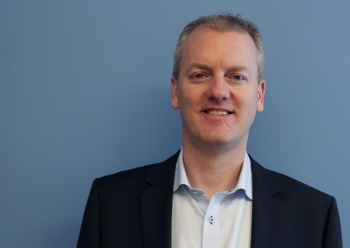 Huebner, Associate Professor of International Business at CMU, will lead a discussion titled, "The European Debt Crisis and Other Wonders Hiding in the Global Economy," on Thursday, February 27 at 7:00 PM in CMU's Great Hall (500 Shaftesbury Blvd.). Admission is free, and everyone is welcome to attend. Face2Face is a series of conversations with CMU faculty designed to engage the community on a wide variety of current events and issues at the intersection of faith and life.
The discussion will explore everything from the financial crisis in the United States to the Eurozone debt crisis. Discussion panelists will include two participants from a course Huebner is currently teaching, "Business in the European Union": Norm Klippenstein, a value investor from Niverville, Man. who is taking the course for personal interest; and Wil Bohlender, an international student from Germany who will speak about the Eurozone crisis from a citizen's perspective.
In addition to rising debt rates in Canada and what that means for society, Huebner says that one of the aspects he is interested in exploring is the issue of trust, which is a core facet of Christian faith and of Mennonite communities.
"A lot of our financial system is based on trust – not only for citizens who are investing privately, but for countries like those in the European Union who are working together to use the Euro," he says. "When something like the Eurozone debt crisis happens, trust can be shaken to the core and the question is: What happens if that trust is going to evaporate?"
Huebner, who is leading CMU Redekop School of Business students on a two-week study tour focusing on business and politics in Europe this coming April, is looking forward to the event.
"This is going to be an interesting panel discussion," he says. "I'm excited to hear what people have to say."
"The European Debt Crisis and Other Wonders Hiding in the Global Economy" is the fifth of six Face2Face events CMU will host during the 2013-14 school year. For the complete Face2Face schedule, please visit www.cmu.ca/face2face.