Respected theologian and churchman remembered as beloved teacher, mentor to many
His name was David Schroeder, but those who knew him affectionately and respectfully referred to him as 'Doc.'
Schroeder, who worked as Professor of New Testament and Philosophy at Canadian Mennonite Bible College (CMBC), one of Canadian Mennonite University's (CMU) predecessor institutions, died peacefully in his home on Sunday, Sept. 27. He was 91 years old.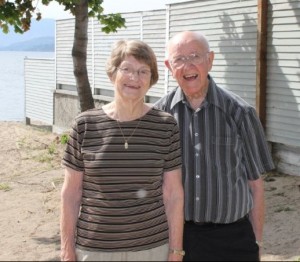 A theologian and churchman with a D.Th from the University of Hamburg, Schroeder taught at CMBC from 1959 until 1994.
Harry Huebner, Professor Emeritus of Philosophy and Theology, remembers Schroeder as a beloved teacher and inspiring mentor to many students.
Schroeder's gifts extended to his colleagues and to the shaping of CMBC.
"He refused to give simple answers to difficult problems because he believed in the capacity of people to hear the voice of the spirit," Huebner says. "His charisma was infectious and his influence cannot easily be overstated."
That influence stretches far beyond CMU.
"Churches across the Mennonite world sought not only his Biblical knowledge, but his wisdom in bringing issues of the times into interaction with the Biblical narrative in ways that often resulted in that 'a-ha' moment," Huebner says.
Schroeder was born in Altona, MB on Sept. 20, 1924. As a young man, he was a conscientious objector. He felt so strongly about the matter that, rather than allowing his bishop to speak for him before the judge, Schroeder went to Winnipeg to face the judge himself.
Schroeder earned a Bachelor of Theology at Mennonite Brethren Bible College (MBBC) and became an ordained minister. Polio struck, derailing his career as a minister but leading to the opportunity for Schroeder to further his studies.
He earned a BA from Bethel College (1951) and a Master of Divinity from Mennonite Biblical Seminary (1956) before moving on to the University of Hamburg, where he finished his D.Th in 1959.
Reflecting during a recent CMU event on his time spent studying under Schroeder in the 1970s, alumnus Larry Plenert remarked on how Schroeder inspired him to become a lawyer.
"He was someone who all of us students at CMBC looked up to and thought highly of," Plenert says.
A student asked Schroeder if it was appropriate for Mennonites to be lawyers.
"Doc felt that the legal profession would benefit by lawyers that had integrity and had good, strong values, and although we came from this tradition of 'Stillen im Lande' (the quiet in the land), it was OK for a Mennonite student to become a lawyer," says Plenert, who practiced law in Abbotsford, B.C. for 27 years. "That was tremendous encouragement for me."
CMU President Cheryl Pauls notes that Schroeder leaves a legacy as a beloved teacher to many students.
"He was known for his gentle nature, student mentoring, and visionary, creative capacity to take complex questions forward in the classroom and the church," Pauls says.
Gerald Gerbrandt, President Emeritus and Professor Emeritus of Bible at CMU, says that Schroeder was a gentle yet passionate teacher with a fertile imagination and an ability to connect with anyone.
"Dave had a special capacity to relate with integrity to a broad range of people, whether renowned Biblical scholar or devout layperson, whether non-Christian or conservative Mennonite," Gerbrandt says. "In each case, he could develop a genuine relationship built on respect and trust."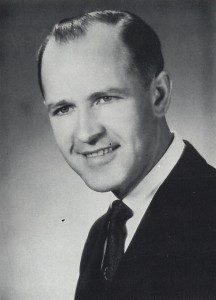 Upon Schroeder's retirement from full-time teaching in 1989, CMBC held an academic symposium in his honour.
Speaking at the event, Rodney Sawatsky, a former student of Schroeder's and president of Conrad Grebel College (Waterloo, ON) at the time, remarked that churches sought Schroeder out not because of what he said, but because of who he was as a person.
"He is heard because he does not so much negate or scold or imply his intellectual or spiritual superiority but rather he adds to, builds bridges, surprises, encourages, and assures," Sawatsky said. "He breathes new life, new faith, new hope, and new love."
"His master teacher is Jesus the Christ, the Word made flesh," Sawatsky added.
"We honour Dave best when we too, as teachers of the church, look to Jesus as our master teacher, when our words too become flesh in and through us. Then and only then will we have been true students of Dave Schroeder. Then and only then will we be servants of the church as Dave has modelled so powerfully for us!"
Schroeder's passion for peace and justice, the global church, and the Mennonite church were equalled by his passion for his family. He lived in a four-generational house for more than 50 years.
He is survived by the love of his life, Mildred (Bartel), who he was married to for 66 years. They had three children: Dorothy (Don) Sugimoto, Lynette (Ernie) Wiebe, and Alan (Ruth) Schroeder; eight grandchildren; and seven great-grandchildren.
About CMU
A Christian university in the Anabaptist tradition, CMU's Shaftesbury campus offers undergraduate degrees in arts, business, humanities, music, sciences, and social sciences, as well as graduate degrees in theology, ministry, peacebuilding and collaborative development, and an MBA. CMU has over 800 full-time equivalent students, including those enrolled in degree programs at the Shaftesbury and Menno Simons College campuses and in its Outtatown certificate program. 
For information about CMU visit www.cmu.ca.
For additional information, please contact:
Kevin Kilbrei, Director of Communications & Marketing
kkilbrei@cmu.ca; 204.487.3300 Ext. 621
Canadian Mennonite University
500 Shaftesbury Blvd., Winnipeg, MB  R3P 2N2