Reunions, Concerts, Alumni Awards, and Donor Recognition Highlights of Annual Event
Although it's only been five months since she graduated from Canadian Mennonite University, Amber Neufeld was eager to return to campus for Fall Festival.
Neufeld performed at the festival's MPK folk concert, shopped at the farmers market, and attended the opening program. She hopes to attend more CMU events in the future because of the impact the university has had on her life.
"Not only did CMU teach me valuable things that are the foundation for my faith and education, it gave me some amazing people that I'm honoured to be friends," Neufeld said.
More than 500 people gathered at CMU for Fall Festival this past weekend (Sept. 25-26).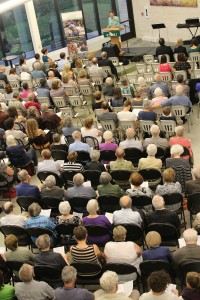 Celebrated at the end of each September, Fall Festival features opportunities for students, alumni, friends, donors, and community members to connect, learn, play, and celebrate with the CMU community.
In addition to the folk music festival and farmers market, the weekend included class reunions, community meals, a Manitoba Cycling Association-sanctioned bicycle race, MCAC basketball games, and a tour of Marpeck Commons, the new building on campus that houses a library, a bookstore/resource centre, learning commons, and a café.
The weekend kicked off on Friday, Sept. 25 with a Face2Face community discussion exploring oil dependency.
After a full day of activity on a warm and windy Saturday (Sept. 26), Fall Festival wrapped up with CMU's annual opening program, a time of worship to celebrate the start of a new school year.
For the first time ever, the opening program was held in Marpeck Commons, which opened at the end of November 2014.
Delivering a message based on CMU's chapel theme for 2015-16, Behold the Beauty of the Lord (Psalm 27:4), CMU President Cheryl Pauls spoke of the ways in which beauty and inquiry work together.
Meditating on the popular phrase, "Leave it better than you found it," Pauls talked about how that mentality has captured people's imaginations as they work amidst the complex, strained matters of today, such as economic disparity, climate change, food security, human sexuality, and reconciliation with First Nation, Métis, and Inuit peoples.
"I've little doubt that the call 'Better than we found it' nurtures our commitments to these and many more hurting peoples and places," Pauls said.
"I've also little doubt that the mission entrusted to this university requires action and reflection—action and reflection that's animated by bending towards beauty. That is, through postures of prayer in the courage and humility of inquiry and awe, ever seeking of God clear, compelling ways forward with matters and relationships that confound and trouble us. And also, perhaps more importantly, by ever releasing and offering to God the very best of our persuasions and of all we think we now grasp."
The opening program included the presentation of the 2015 Distinguished Alumni Awards, which annually recognize alumni who, through their lives, embody CMU's values and mission of service, leadership, and reconciliation in church and society.
Pauls presented the awards to Larry Plenert, an Olympian-turned-lawyer who has worked for the past eight years as an adjudicator of claims of serious abuse by former students of Indian Residential Schools; Cheryl Woelk, an educator and peace worker; Gerry Dyck, a businessman who has made significant contributions in the field of international development; and Arno and Lena Fast, a couple who have spent the past 46 years ministering at a church in Winnipeg's North End.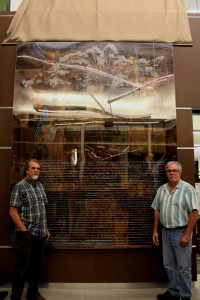 Later in the program, Pauls noted that $12 million of the $14.4 million needed to pay for Marpeck Commons has been raised so far.
She unveiled a donor recognition wall, which features an art piece commemorating people who contribute money to the project.
Created by Winnipeg artists Richard Finney and Ray Dirks, the piece is made up of brushed metal and glass.
The glass features an etching of a tree made up of phrases from CMU's mission statement.
The lower portions of the piece feature a laser cutting of the names of donors who contributed to the project, with room to add the names of future donors.
"It's a field of names," Pauls explained. "Each individual is a kernel, a kernel that matters and is vital to the actual, ongoing life of this place. As a collective, this field of names draws out the best of what is made possible through the learning, the conversation, the sharing together in this place."
Vice President External Terry Schellenberg noted that Fall Festival is an important community builder for CMU.
"Once again, Fall Festival opened CMU to alumni, friends, and the broader community," Schellenberg said.
"We were moved by a significant Face2Face conversation; inspired by stories of ministry, restorative justice, business, and peacemaking from five alumni award recipients; gratified by the generosity of CMU's support community as we unveiled a beautiful donor wall in Marpeck Commons; and celebrated and blessed the start of a new academic year."
About CMU
A Christian university in the Anabaptist tradition, CMU's Shaftesbury campus offers undergraduate degrees in arts, business, humanities, music, sciences, and social sciences, as well as graduate degrees in theology, ministry, peacebuilding and collaborative development, and an MBA. CMU has over 800 full-time equivalent students, including those enrolled in degree programs at the Shaftesbury and Menno Simons College campuses and in its Outtatown certificate program. 
For information about CMU visit www.cmu.ca.
For additional information, please contact:
Kevin Kilbrei, Director of Communications & Marketing
kkilbrei@cmu.ca; 204.487.3300 Ext. 621
Canadian Mennonite University
500 Shaftesbury Blvd., Winnipeg, MB  R3P 2N2