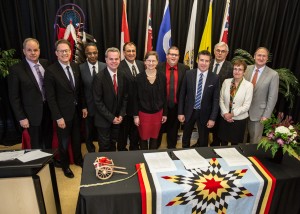 Canadian Mennonite University (CMU) is proud to announce its participation in the Indigenous Education Blueprint as part of Manitoba's education sector.
CMU joined five other Manitoba universities, three colleges, and the Manitoba School Boards Association in a landmark signing of the Indigenous Education Blueprint on December 18.
Working together in unprecedented fashion, the participating institutions developed and are now committed to the plan, which acts upon the recommendations the Truth and Reconciliation Commission presented this past summer.
The Blueprint commits the participating institutions to concrete practices in order to respect, celebrate, and support Indigenous peoples, knowledge, and success.
For more information about the event and the author, please see the related news release.
[youtube]https://youtu.be/grN4pnKDtA4[/youtube]