By April Klassen, 4th-year Interdisciplinary Studies: Community Development
This past semester I had the opportunity to walk with the Bear Clan Patrol as the practicum for my Community Development degree. The Bear Clan Patrol embodies an Indigenous-led, community-based approach to crime prevention activated by patrolling the streets of Winnipeg's North End five nights per week. It began as a response to the tragedy of our missing and murdered Indigenous women and girls.
The Bear Clan Patrol has many different responsibilities, including collecting needles, handing out care packages, providing safewalks, and being a friendly and positive presence.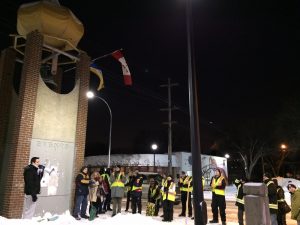 The Bear Clan Patrol is often requested to marshal various memorials or marches. I recently participated in one such memorial, this time a candlelight vigil and march held in honour and memory of Marilyn Rose Munroe. Rose was found murdered one year ago and her death remains a cold case to this day. The vigil was hosted by Rose's family and friends, who shared stories and sang songs as we held candles and walked the length of the North End neighbourhood.
I had never participated in a vigil before, nor do I know anyone who has been murdered. I have never had to fear for my life, nor the lives of my family and friends, and I have no reason to think that this should ever be a part of my reality. Yet as we walked, in silence, holding candles in the darkness, I thought about what this experience must be like for my fellow patrol members.
I looked at Sara, the quiet, funny, smart, young Indigenous woman walking next to me who is about my age and lives in the North End. Statistically speaking, Sara has likely been to many vigils and probably knows more than one person who has gone missing or been murdered.
As we walked I wondered what it was like for her to participate in such an event, knowing that it is not out of the realm of possibility that someday she might hold a vigil for her sister, her mother, her daughter—or that one might be held for her! Or, what was it like for her boyfriend and his buddies, who walked just a few steps behind us? Did they fear for the women in their lives, for their sisters and mothers and daughters and partners, or have people become so accustomed to the horror and tragedy that it has become normalized? Did bystanders see the vigil as a sign of resistance, of resilience, something to be celebrated or, was it simply a visible reminder of the pain and death faced by so many families in the community?
The strength that it takes to face the darkness, to stand on the sidewalk and acknowledge the hurt of your community, of your people, of your nation—this is a strength to which I aspire. It would be a vast understatement to state there is darkness in the North End. The history of Canada and of its Indigenous people is very dark, and its legacy continues today. If we are to seek reconciliation with Indigenous peoples, we need to step into that darkness. For me, that step was literal, as I spent six hours of each week with a flashlight walking the poorly lit North End streets.
This darkness is a hard place to be in, and it can be scary at times. One incredible thing I've learned is that communities like the North End, and all the diverse Indigenous people and nations of this land, already live in this space. That particular night we walked in darkness because a member of that community had been murdered, and as a community, we created a light that pushed against that darkness.
A first step toward reconciliation will be releasing our tight grip on our comfortable, safely-lit lives and stepping into the darkness. When we get there we will realize that we do not dwell in the darkness alone.
The longer we spend there and the more often we return, the more we will find ourselves becoming a part of the community, welcomed by their embodiment of God's transformative power, to participate in the redemption of this world.