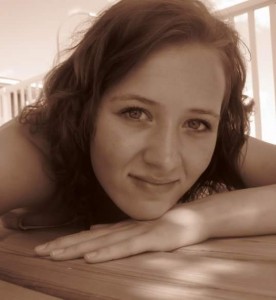 Kathleen McCullough describes her practicum placement as a "home away from home."
While completing the final year of her BA in Psychology at Canadian Mennonite University (CMU), McCullough volunteered with L'Arche, "an international organization of faith-based communities creating homes and day programs with people who have intellectual disabilities."
The relational nature of a practicum with a L'Arche house in Winnipeg appealed to McCullough, who describes her placement as not necessarily having specific jobs, but helping to facilitate meeting the residents' needs.
There are six L'Arche houses in Winnipeg, each with four to five core members, and a certain number of assistants and volunteers.
McCullough helped residents with day-to-day activities such as getting dressed, preparing for bed, or cooking meals. She developed friendships with the L'Arche residents through these activities and others such as games nights, watching movies, and birthday celebrations.
"It was about being with each other and embracing the moments that you have with each other … about being a home with people," she says.
For McCullough, who describes herself as "big on relationships," completing a practicum with L'Arche was an excellent choice. It also tied into her future plans—she'll be pursuing further studies in education and aims to work as an assistant to children with disabilities in schools.
Anticipating this future work, McCullough says her practicum allowed her the opportunity to "figure out how to work with how [the residents] show their disability," which she describes as a meaningful experience.
McCullough has been interested in psychology and the nature of relationships since high school. The psychology classes she's taken at CMU focused on social relationships, counselling, and motivational psychology. The skills and tools she gained in the classroom were helpful in her placement, as the L'Arche community is composed of residents from diverse backgrounds.
"There's so much diversity at L'Arche—different genders, faiths, cultural backgrounds," she says. "L'Arche accepts everyone which is unique because [the diversity] makes the community at L'Arche so strong."
For those who are planning their practicum, McCullough recommends choosing a practicum placement that will be meaningful.
"If you pick something that could lead toward your future vocational experience, that's really important," she says. "It makes it more enjoyable and you get more out of it."
Ellen Paulley is a Writer and Social Media Coordinator at Canadian Mennonite University
Each of CMU's Bachelor of Arts programs includes a practicum component that complements classroom education and allows students to gain hands on experience in their field. Learn more about CMU's practicum program.