For Eric Wiebe, attending Canadian Mennonite University's annual Fall Festival event this past weekend was like coming home.
Wiebe, a retired high school physics teacher who lives in Kamloops, BC, graduated from Canadian Mennonite Bible College, one of CMU's predecessor institutions, in 1966. He wanted to be at Fall Festival because members from his graduating class were gathering for their 50-year reunion.
"I haven't seen many of them in the interim, so it was interesting to see what they've done with their lives," Wiebe said, adding that attending Fall Festival was a reminder of "how significant CMU is."
Wiebe was one of more than 1,000 people who gathered at Fall Festival Sept. 23-24.

Celebrated at the end of each September, Fall Festival features opportunities for students, alumni, friends, donors, and community members to connect, learn, play, and celebrate the CMU community.
In addition to class reunions, the weekend included community meals, a farmers market, a folk music festival, a bicycle race, a CMU basketball game, and a Face2Face community discussion featuring Reserve 107: Reconciliation on the Prairies, a 30-minute documentary by alumnus Brad Leitch that explores Indigenous-settler relations in the small town of Laird, SK.
Fall Festival concluded with CMU's annual opening program, a time of worship to celebrate the start of a new school year.
CMU President Dr. Cheryl Pauls delivered a message based on CMU's chapel theme for 2016-17, If We Walk in the Light (1 John 1:5-7).
"We seek to witness to the truth that God is light," Pauls said. "My prayer is that the light of Christ will emanate through all who are touched by this learning community in some way—students, staff, faculty, board, council, alumni, friends, guests of all sorts, and many others."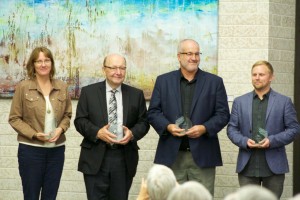 The opening program included the presentation of the 2016 Distinguished Alumni Awards, which annually recognizes alumni who, through their lives, embody CMU's values and mission of service, leadership, and reconciliation in church and society.
Pauls presented the awards to Peter Guenther, who served as the head of numerous correctional institutions during a 39-year career; Adrienne Wiebe, an international development worker; Ron Toews, a pastor and professor committed to leadership development in the Mennonite Brethren Church; and Brad Leitch, a filmmaker and peacebuilder.
At its best, CMU's impact is evidenced in the life stories of alumni, said Vice President External Terry Schellenberg.
"While we would never claim full credit for who our alumni become or the good they contribute, we know that CMU does open imagination and passion and skill, and that this university lays foundations for faithfulness," Schellenberg said.
Later in the program, Dr. Harry Huebner, Professor Emeritus of Philosophy and Theology, and Dr. Paul Dyck, Professor of English, presented a Festschrift honouring Dr. Gerald Gerbrandt, who served as CMU's first sole President from 2003 to 2012.
Titled A University of the Church for the World: Essays in Honour of Gerald Gerbrandt, the Festschrift—a German word for a collection of writing that is meant to honour a scholar—is a series of essays that reflect on the work being done at CMU.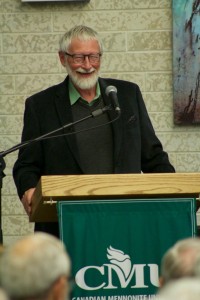 The book takes its name from a phrase Gerbrandt coined to describe CMU. Huebner noted that as president, Gerbrandt shaped CMU's vision and mission, gave leadership in molding its faculty, and created a climate of open, free exchange of ideas and respect for difference.
"The essays in this book are all written out of a deep appreciation for this culture of open discussion, of open debate, guided by a commitment to the Christian faith," Huebner said. "In a small way, it is an example of what a university of the church for the world might look like."
Gerbrandt expressed his thanks for the book, particularly to the authors who took time to write essays for it.
"I really do look forward to reading each one of your reflections and seeing what I can learn from them," Gerbrandt said, adding later: "I do trust that… the various contributions in it serve to help CMU and perhaps other universities to become more effective to serve the world and the church."
Ultimately, opening program—and Fall Festival as a whole—was about gratitude; gratitude not only for the contribution of alumni and a former President, but gratitude for the community that supports CMU.
"CMU's present and its future is nowhere if it's not held within a network of friends and alumni, parents and grandparents, (and) congregations who undergird the possibilities of this university," Schellenberg said.
About CMU
A Christian university in the Anabaptist tradition, CMU's Shaftesbury campus offers undergraduate degrees in arts, business, humanities, music, sciences, and social sciences, as well as graduate degrees in theology, ministry, peacebuilding and collaborative development, and an MBA. CMU has over 800 full-time equivalent students, including those enrolled in degree programs at the Shaftesbury and Menno Simons College campuses and in its Outtatown certificate program.
For information about CMU visit www.cmu.ca.
For additional information, please contact:
Kevin Kilbrei, Director of Communications & Marketing
kkilbrei@cmu.ca; 204.487.3300 Ext. 621
Canadian Mennonite University
500 Shaftesbury Blvd., Winnipeg, MB  R3P 2N2