CMU Press is pleased to announce the release of a Festschrift honouring Dr. Gerald Gerbrandt, who served as Canadian Mennonite University's first sole President.
Titled A University of the Church for the World: Essays in Honour of Gerald Gerbrandt, the Festschrift—a German word for a collection of writing that is meant to honour a scholar—is a series of essays that reflect on what it means to be a Mennonite university.
"The essays are high quality. The writers were clearly engaged in a labour of love that called forth their best efforts in honouring this leader and friend," said CMU Press editor Dr. Paul Doerksen. "All of the essays have something to do with what it might mean to be a Christian university. On that level, it's an important contribution."
The book, which takes its name from a phrase Gerbrandt coined to describe CMU, was co-edited by Dr. Paul Dyck, Professor of English, and Dr. Harry Huebner, Professor Emeritus of Philosophy and Theology.
Dyck and Huebner presented the book to Gerbrandt during CMU's 2016-17 opening program on Saturday, September 24.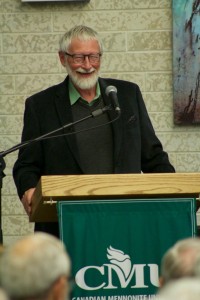 Huebner noted that as president, Gerbrandt shaped CMU's vision and mission, gave leadership in molding its faculty, and created a climate of open, free exchange of ideas and respect for difference.
"The essays in this book are all written out of a deep appreciation for this culture of open discussion, of open debate, guided by a commitment to the Christian faith," Huebner said. "In a small way, it is an example of what a university of the church for the world might look like."
Dyck added that the aim of the book was to bring together the various disciplines and activities at CMU and give readers an in-depth look at the life of the university.
It features 17 essays, including contributions from CMU faculty who teach international development, biblical and theological studies, music, English literature, biology, and math.
The book also includes essays on academic freedom, co-curricular activities at CMU, and CMU's practicum program.
Additionally, the book features essays by University of Manitoba President David Barnard, Bluffton University President James Harder, church leaders David Wiebe and Robert J. Suderman, and more.
"We recommend the book to you as an example of the intellectual life of this university, both in the insights of its chapters and in the joyful interaction of them between these covers," Dyck said at opening program.
Gerbrandt expressed his deep thanks for the book, particularly to the authors who took time to contribute essays.
"I really do look forward to reading each one of your reflections and seeing what I can learn from them," Gerbrandt said, adding later: "I do trust that… the various contributions in it serve to help CMU and perhaps other universities to become more effective to serve the world and the church."
Born in Chihuahua, Mexico and raised in Altona, MB, Gerbrandt earned his Bachelor of Christian Education from Canadian Mennonite Brethren Bible College (CMBC), one of CMU's predecessor institutions. He went on to earn a Master of Divinity degree from Mennonite Biblical Seminary in Elkhart, Indiana as well as a PhD in Old Testament from Union Theological Seminary in Richmond, Virginia.
After working for many years as a professor at CMBC, he was appointed the college's Academic Dean, a position he held from 1982 to 1997. From 1997 to 2003, he served as President of CMBC, and from 2003 until his retirement in 2012, he served as President of CMU.
Gerbrandt and his wife, Esther, are active members at Bethel Mennonite Church, Winnipeg. They have three adult children, Nathan (Ang), Brad (Natalie), and Virginia (Andrew), and four grandchildren.
About CMU
A Christian university in the Anabaptist tradition, CMU's Shaftesbury campus offers undergraduate degrees in arts, business, humanities, music, sciences, and social sciences, as well as graduate degrees in theology, ministry, peacebuilding and collaborative development, and an MBA. CMU has over 800 full-time equivalent students, including those enrolled in degree programs at the Shaftesbury and Menno Simons College campuses and in its Outtatown certificate program.
For information about CMU visit www.cmu.ca.
For additional information, please contact:
Kevin Kilbrei, Director of Communications & Marketing
kkilbrei@cmu.ca; 204.487.3300 Ext. 621
Canadian Mennonite University
500 Shaftesbury Blvd., Winnipeg, MB  R3P 2N2