Directed By Alumnus Brad Leitch, 'Reserve 107' Explores Indigenous-Settler Reconciliation
Canadian Mennonite University (CMU) will host the Manitoba premiere of the new documentary short Reserve 107: Reconciliation on the Prairies during its first Face2Face community discussion event of the 2016-17 school year.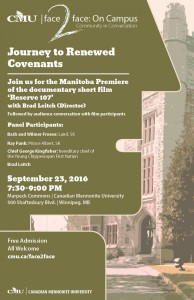 The documentary explores Indigenous rights and title to the land in the small town of Laird, SK, where an old injustice is providing new opportunities for dialogue, friendship, and a fierce determination to right the wrongs of the past.
The public is invited to watch the 32-minute documentary on Friday, September 23 at 7:30 PM. The screening takes place in Marpeck Commons (2299 Grant Ave.). A Q and A with Brad Leitch, director of the film and a CMU alumnus, will precede the screening, and a panel discussion featuring people from the film will follow. Admission is free, and everyone is welcome to attend.
"We are excited to screen Reserve 107 and host a discussion about the important themes of Indigenous rights, claims to land, and reconciliation that it explores," says David Balzer, Assistant Professor of Communications and Media at CMU, who will moderate the discussion.
In Laird, Mennonites and Lutherans discovered that the land they live on is in fact the former reserve of the Young Chippewayan First Nation.
In 2006, Mennonites, Lutherans, and the Young Chippewayan First Nation gathered on the sacred hill of Stoney Knoll/Opwashemoe Chakatinaw. With goodwill and shared goals, they signed a memorandum of understanding, committing themselves to finding justice for the Young Chippewayan First Nation.
"Our film picks up the story a decade later to see what's happened and how the communities are doing," Leitch says. "I'm very interested in seeing what peacebuilding looks like in a practical sense, and film is a great tool for showing that."
The discussion following the film will feature a handful of people who appear in the documentary, including Barb and Wilmer Froese, who run a family farm in Laird; Ray Funk of Prince Albert, SK, who is a board member with Mennonite Central Committee Saskatchewan, which helped fund the film; and Chief George Kingfisher, hereditary chief of the Young Chippewayan First Nation.
The audience will be invited to participate in the conversation.
Balzer notes that in each year of its existence, CMU's Face2Face discussion series has included an event relating to Indigenous-settler issues in an effort to promote reconciliation and being good neighbours.
"Reserve 107 picks up on an element of the story that our discussion events at CMU haven't addressed before," Balzer says. "The people participating in the panel are on the ground level of what is happening in Laird, so it will give people who come to the event an intimate look at how people negotiate treaty relationships in their lives."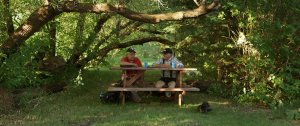 Described in reviews as "beautifully photographed," "wonderfully accessible," and "a valuable resource," Reserve 107 was an official selection at this year's DOXA Documentary Film Festival in Vancouver, BC, as well as the Speechless Film Festival in Mankato, MN, where it was given an award of merit. To watch a trailer and learn more about the film, visit reserve107thefilm.com.
Started in 2013, Face2Face is a series of conversations organized by CMU, designed to engage the community on a wide variety of current events and issues at the intersection of faith and life.
"Journey to Renewed Covenants" is the first of four Face2Face events CMU will host during the 2016-17 school year. For details, visit cmu.ca/face2face.
About CMU
A Christian university in the Anabaptist tradition, CMU's Shaftesbury campus offers undergraduate degrees in arts, business, humanities, music, sciences, and social sciences, as well as graduate degrees in theology, ministry, peacebuilding and collaborative development, and an MBA. CMU has over 800 full-time equivalent students, including those enrolled in degree programs at the Shaftesbury and Menno Simons College campuses and in its Outtatown certificate program.
For information about CMU visit www.cmu.ca.
For additional information, please contact:
Kevin Kilbrei, Director of Communications & Marketing
kkilbrei@cmu.ca; 204.487.3300 Ext. 621
Canadian Mennonite University
500 Shaftesbury Blvd., Winnipeg, MB  R3P 2N2