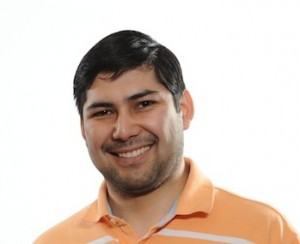 December 13, 2012 – The decision to study at Canadian Mennonite University required a leap of faith for graduate student Jose Moraga and his family, who came to Winnipeg from their home in Santiago, Chile.
"Continuing my studies outside of my country has been a very important step in my spiritual journey. I chose to study at CMU because I identify with the University's focus on service, leadership, and reconciliation, its program flexibility, and its theology with a strong emphasis on justice and peace," says Moraga.
Living, working, and studying in a foreign country has been a challenge for Moraga and his family – especially because of the language barrier. Moraga credits the CMU community with helping to ease that transition.
"At CMU, we have found people who have cared for us not only academically, but also on a personal level. Living here among people of different cultures has been an excellent experience for our daughters," says Moraga. "The professors have been patient and motivating, and a diversity of opinions and experiences is something that is welcomed in the classroom. The staff at CMU have quickly become part of our family."