December 13, 2012 – A love of basketball brought CMU student and athlete Kathleen McCullough to CMU – and it's what continues to motivate and challenge this student who is in  her third year both at the school and on the team.
"Our team is like an extended family to me," says McCullough, who is working towards her Bachelor of Arts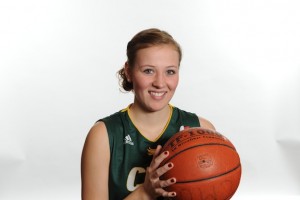 degree in Social Sciences and Counselling. "As the year progresses, each player develops, both personally and in our athletic ability. My coach really puts the players first and has helped push me to my optimal performance."
Kathleen started out with less than a full course load, but quickly learned to balance life as a full-time student with her basketball career. "I believe anybody can balance academics and athletics here – and succeed in both."
CMU athletes are supported by the entire community, cheering on their teams through wins and even through losses. "The fans here never stop cheering," says Kathleen. "It doesn't matter which sport is happening, there will always be fans coming out to support their team. That support keeps a team going through tough competition and it's something I look forward to every basketball season."
CMU athletes consistently perform well in the league's scholar-athlete rankings, with nine student-athletes in 2012 achieving grade-point averages (GSPs) of 4.0 and up. Also recognized for academic awards are scholar-athletes with GPAs of 3.0 (80%) or higher – in 2011, 47 members of CMU's six varsity teams received recognition for academic excellence, representing 69% of all team members.