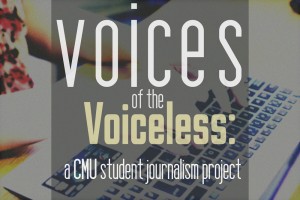 By Rebecca Kuhn
Every morning in Jessica Burridge's house begins with dancing. Accompanied by her children, Dakota, 6, Danika, 4, and Dawson, 3, with music recorded by Justin Bieber, the family begins each day with joy.
However, life hasn't always been joyful for the 21-year-old single mother.
She grew up in a home where her father was a "booze hound" who abused her mother in front of their six children. Her parents eventually split, leaving Burridge's mother alone to raise six children.
At 14 years old, Burridge began using drugs. She became addicted to cocaine, and stopped caring about school and taking care of herself.
At 15, she became pregnant.
At 16, she joined the Teen Moms Group at Douglas Mennonite Church in Winnipeg. This group provided mentors to support her, but even so, things got more difficult.
"I was in a bad relationship [and] I still did drugs every now and then," she says.
Burridge remained in this relationship for four years, even though her boyfriend abused her. Sherri Miller, director of the Teen Mom program, steered her toward 1 Corinthians 13:4-7and told her that when she considered returning to her abusive partner, she should first read the verses about love being patient and kind.
"Those verses are what kept me strong enough to stay away."
But it was difficult on her own. At one point, Burridge told her mother she couldn't do it anymore, but no help was forthcoming.
"She would always say, 'I raised six of you by myself, you only have half of what I had," Burridge recalls."I felt like I was useless. I mean, I'm nothing in society, right? I was just scum, and I knew I had to do something better with myself."
Burridge was accepted into a young mothers' program to complete high school and perhaps go to post-secondary studies, but when mysterious bumps appeared on her youngest son's head, her plans changed quickly.
At a hospital emergency room, doctors told her Dawson's skull was fractured and authorities would take her children on suspicion of abuse.
The next day, two detectives took her to a police station for interrogation. At the station, she got a phone call from her sister, saying Burridge's children were being removed from her care.
For three months, Burridge lived in her house alone, without her children. She says she considered suicide.
"It was the worst time of my life.It was either I die and I don't have my kids anyways, or I fight to get them home, and prove to everybody that I am innocent."
From the first allegations of child abuse, Burridge asked for a lie detector test to prove her innocence, even though her lawyer advised against it. She took the test and passed.
She also completed court-ordered programs and, finally, a judge allowed the return of her children.
In September, Burridge will begin studying an electrical program at a Winnipeg technical school. Her goal: "Become a somebody, and not a nobody."
Burridge is grateful for support from her mentors at Douglas Mennonite Church, saying it's like they have adopted her and her children. She refers to one of her mentors as "the Mom I never had."
Rebecca Kuhn is a student at Canadian Mennonite University. She wrote this article as part of her work in the course Journalism—Principles and Practices. "Voices of the Voiceless" is a class project that aims to chronicle the humanity of often-ignored people on the margins of our community.