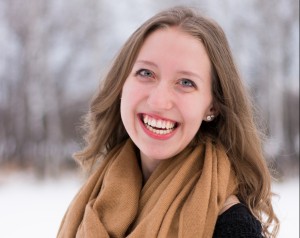 A lifelong love of music and a fascination with worship led Anneli Loepp Thiessen to pursue a Bachelor of Music at Canadian Mennonite University (CMU).
Loepp Thiessen says her studies offer opportunities to explore questions such as: why do we worship? And what does it mean when we worship? Answers to questions such as these are complex, yet Loepp Thiessen suggests the root of the answer lies in viewing worship as a conversation.
"We are very used to worshipping and making music as a community, but it's more than congregations often realize," she says. "It's about gathering as a community and what we're saying to each other—what does it mean to us and what does it mean to God?"
As a worship director at Doon Presbyterian Church in Kitchener, Ontario for two summers, Loepp Thiessen explored this theory in a practical setting, drawing on her classroom learning, including theories and techniques learned in the course Leading Music and Worship. The position was a foundational one for her.
"I know that I'm going to be involved with church music for a long time," she says. "Having this foundation from CMU has given me a really realistic expectation for worship and guidelines of how we approach worship."
A quote by Johann Sebastian Bach encapsulates the connections Loepp Thiessen sees in the two concentrations she's studying: music ministry and piano performance.
I play the notes as they are written, but it is God who makes the music. – Johann Sebastian Bach
"If as a solo pianist I am being true to what Bach intended, then it's going to be an act of worship—I need to think of it as a conversation with God, which takes it to another level," she says.
Bach is a favourite composer of Loepp Thiessen's and at CMU she's had the opportunity to perform his pieces as a solo performer, with the Mennonite Community Orchestra, with the CMU Singers, and with a solo singer, all of which she has greatly enjoyed. She's appreciated the opportunities to learn how to provide accompaniment in different performance contexts.
Loepp Thiessen has also experienced the collaborative nature of CMU through faculty mentorships in each department of the music program. Witnessing the care and interest of faculty members has impressed upon her the importance of sharing music with others.
"When I graduate from CMU, one of the things that will stick with me is the idea that as musicians one of the most valuable things we can do is be mentors," says Loepp Thiessen. She's already sharing her passion for and knowledge of music with others by teaching piano at CMU's Community School of Music and the Arts.
Loepp Thiessen says studying music at CMU has surpassed her expectations.
"There is no school that offers such a wide range of disciplines within the music program, does them so well, and within the context of Christian community."
Learn more about CMU's Bachelor of Music degree: www.cmu.ca/music