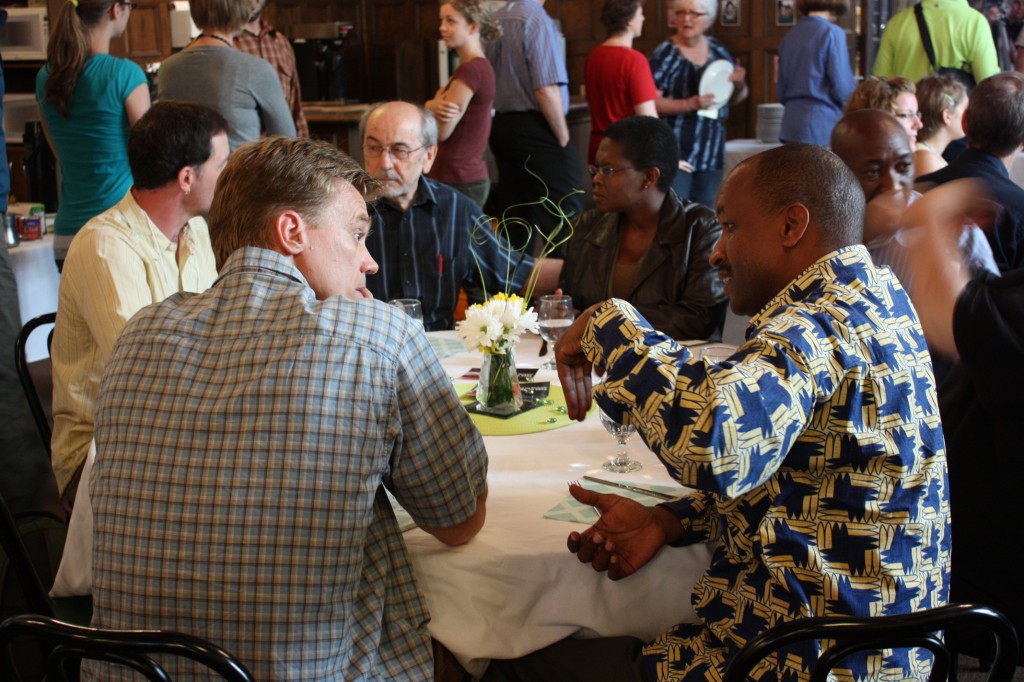 CSOP Welcomes World Peacemakers in June 2011
In order to foster a dream of a more peaceful world, CMU is hosting some of the world's foremost peacebuilding practitioners and teachers for its 3rd annual Canadian School of Peacebuilding (CSOP) in Winnipeg from June 6-24.
According to Valerie Smith and Jarem Sawatzky, co-directors of CSOP, it is a natural progression of CMU's faith-based peace tradition.
"We want to create a space where people from different backgrounds and perspectives can connect in positive and respectful ways—learning together, supporting each other and creating networks of engaged peacebuilders," says Smith.
Participants of CSOP can take the available courses for personal or professional development or for academic credit.
CSOP will host mediators, teachers, authors, relief workers, and founders of various organizations.
"We are very excited about the lineup of instructors," says Sawatsky, who is also Associate Professor of Peace and Conflict Transformation Studies at CMU.
March Burch, an author, educator and group facilitator will be instructing on the topic of voluntary simplicity.
Cross-cultural conflict transformation will be the focus of a course by Michelle LeBaron, the Director of the University of British Columbia's Program on Dispute Resolution. Myla Leguro of Catholic Relief Services, one of the 1000 women nominated collectively for the 2005 Nobel Peace Prize, will be discussing different international methods and experiences.
Other instructors include Paul Dekar, David Dyck, George Lakey, Richard McCutcheon, Stan McKay, Kay Pranis, and Mohammed Ali Shomali.
CSOP is supported by two major collaborating partners, including Mennonite Central Committee Canada, (MCC Canada), which does relief, development and peace work around the world; and Resolution Skills Centre, a training division for Mediation Services Canada.
It provides 50 peacebuilding courses for three levels of government, not for profits, schools, and the private business sector.
CSOP is grateful to the sponsors who provide channels between Canadian School of Peacebuilders and existing networks of peacebuilders.  This year's sponsors are Africa Peace and Conflict Network; Canadian Centres for Teaching Peace (Peace Café); Canadian Foodgrains Bank; CAUSE Canada; Center for Negotiation and Conflict Resolution; Rutgers University; Centre de resources sur la non-violence; Crisis & Trauma Resource Institute Inc; Conscience Canada; Council of Canadians: Acting for Social Justice; Fellowship of Reconciliation; Hope and Action for Africa; CMU's Institute for Community Peacebuilding; CMU's Institute for Theology and the Church; La Maison de l'Amitié Student Residence; Mediation Northern Ireland; Peace Research: The Canadian Journal of Peace and Conflict Studies; Peace and Justice Studies Association, Physicians for Global Survival; Project Peacemakers; The Transitional Foundation for Peace and Future Research; Social Justice Committee; World Peace Prayer Society; and World without Wars and Violence.
CSOP is enriched and its impact broadened through its partnerships with various academic programs, including: The Centre for Peace Studies, McMaster University; The Kansas Institute for Peace and Conflict Resolution (KIPCOR); The Lion and Lamb Peace Arts Center, Bluffton University; Marquette University Center for Peacemaking; The Martin Luther King Institute for Research and Social Action, the Polytechnic University of Nicaragua (UPOLI); Peace and Conflict Studies, Bluffton University; Peace and Conflict Studies Program, University of Colorado at Boulder; Peace and Justice Studies Program, Associated Mennonite Biblical Seminary; The and The Peace Studies Program, University of New England, New South Wales, Australia.
Canadian Mennonite University, through Menno Simons College (CMU's campus at The University of Winnipeg) and through its south Winnipeg Shaftesbury campus, offers one of the most comprehensive undergraduate programs in peace and conflict studies in the world.  CMU has over 1,700 students at its two Winnipeg campuses and enrolled through its Outtatown discipleship program. CMU is a member of the Association of Universities and Colleges of Canada.
Visit www.cmu.ca/csop
For CSOP information, contact:
CSOP Co-director Valerie Smith
vsmith@cmu.ca; Tel. 204.487.3300 Ext. 315
Canadian School of Peacebuilding at CMU     500 Shaftesbury Blvd.  Winnipeg, MB  R3P 2N2
For CMU information, contact:
CMU Comm. & Marketing Director Nadine Kampen
nkampen@cmu.ca; Tel. 204.487.3300 Ext. 621