WINNIPEG, July 3, 2013 – Canadian Mennonite University (CMU) President Cheryl Pauls will gather with Federal, Provincial, and Civic representatives on July 8, 2013 for a groundbreaking celebration to mark the start of construction of the University's new library and learning commons and pedestrian bridge.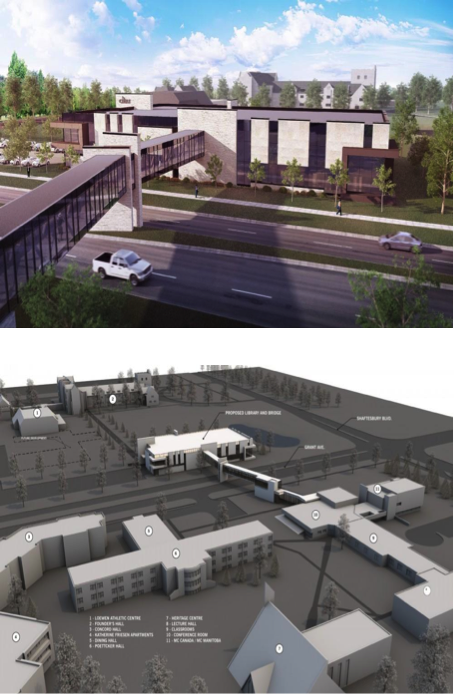 Funding for the new complex, the impact of which will be experienced by students, faculty and the broader constituency and community for decades to come, has been generated by the CONNECT fundraising campaign. Under the leadership of Campaign Chair Elmer Hildebrand, CEO of Golden West Broadcasting, roughly $10-million of the $13.9-million goal has been raised. This funding comprises donations from private donors and foundations, as well as the Winnipeg Foundation, the Richardson Foundation, and the C.P. Loewen Family Foundation. The target for the project's completion is September 2014.
The new library and learning commons will provide a space where students and faculty can give their full attention to learning as they study, collaborate, and research together. The facility will also include both a café and a 'conversation corner' in which events such as book launches, readings, stand-up receptions, and opportunities for engaging conversation of significant issues to CMU and the broader community will be hosted.
The adjacent bridge will provide students and faculty with a safe, accessible route across a major thoroughfare, while creating a greater sense of community by joining the north and south campus areas separated by Grant Avenue.
Media and members of the community are invited to attend the groundbreaking event, which will take place near the site of the new Library & Learning Commons and Bridge (Shaftesbury at Grant Avenue). In the event of inclement weather, the ceremony will take place indoors in the Great Hall, accessed via the main entrance at 500 Shaftesbury Boulevard.
CMU Groundbreaking Celebration:
July 8, 2013, 10:30 AM
500 Shaftesbury Boulevard, Winnipeg, MB