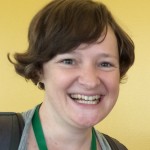 Peacemaking, language, and education are interests that have continually woven together in the life of Cheryl Woelk (CMU '03).
From 2002-08, she was a Mennonite Church Canada Witness Worker in Seoul, South Korea where she worked as education coordinator at the Korean Anabaptist Center and head teacher at Connexus, the English language school Woelk and her KAC colleagues founded. After earning a Master of Arts in Education, Woelk and her family moved to Saskatoon, SK.
She is currently involved in a variety of projects there, including Language for Peace, which brings together teachers and learners interested in the connection of language, peace, and education from a Mennonite perspective.
The Distinguished Alumni Awards celebrate alumni who, through their lives, embody CMU's values and mission of service, leadership, and reconciliation in church and society. The awards are presented to alumni from CMU and its predecessor colleges: Canadian Mennonite Bible College (CMBC) and Mennonite Brethren Bible College (MBBC)/Concord College.