An upcoming event at Canadian Mennonite University (CMU) will continue the discussion about what at urban reserve at Kapyong Barracks might look like.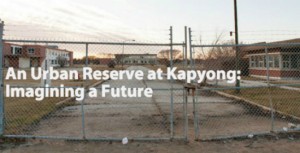 The community is invited to "An Urban Reserve at Kapyong: Imagining a Future," CMU's latest Face2Face discussion, on Wednesday, November 4. The event starts at 7:00 PM in Marpeck Commons (2299 Grant Ave.). Admission is free, and everyone is welcome to attend.
Co-presented with the Treaty Relations Commission of Manitoba (TRCM), this event will focus on three main questions:
What might the possibility of an urban reserve at Kapyong Barracks mean for all of us?
Can we name our questions and apprehensions and, in conversation, begin to shape a shared vision for this initiative in this area of our city?
What might we imagine and do together to make this work for the benefit of all?
Participants in the discussion include Chief Dennis Meeches of Long Plain First Nation, which is located southwest of Portage la Prairie and operates two urban reserves; Harry Finnigan, former head of planning at the City of Winnipeg and a leader in community/regional planning and revitalization; and Andrew Holtman, a member of the Tuxedo Community Centre's board of directors.
David Balzer, Assistant Professor of Communications and Media at CMU, will moderate the event along with Jamie Wilson, Commissioner for the TRCM.
The event is a follow-up to two panel discussions CMU has hosted since March 2014 that explored the opportunities and practical challenges of an urban reserve at Kapyong Barracks.
These events have provided a chance for conversation between people who live in the area and the First Nations who want the land.
The last discussion, held this past March, drew hundreds of people.
"Conversations have movement, so the November 4 event grew out of the two previous conversations," Balzer says, adding that he is looking forward to co-moderating the event with Wilson. "There's a different tone when you've got two people sharing the leadership, so to speak, of the evening… That will be really good."
Formerly a Canadian Forces base, Kapyong Barracks was vacated in 2004. The Department of National Defence declared the 159-acre site, located on Kenaston Boulevard, surplus.
Several First Nations have argued that under a treaty land entitlement process, they are allowed to negotiate for federal property that has been declared surplus.
As a result, they have laid claim to Kapyong. They have fought with the Canadian government in court for the past eight years, with the latest decision coming down this past August in favour of the First Nations.
A September 2015 Winnipeg Free Press article reports that several First Nations chiefs are hopeful a deal to buy Kapyong Barracks can be done within a year.
Although construction on the land is years away, it is looking more likely now than it was this past March at the last Face2Face discussion on this topic that Kapyong will indeed be turned into an urban reserve.
"Last time we met, it was kind of in theory that we might be living together as neighbours," Balzer says. "Now you can actually imagine it and this is the community coming together and having a conversation about how we might live together. That's very different in my mind."
Started in 2013, Face2Face is a series of conversations organized by CMU, designed to engage the community on a wide variety of current events and issues at the intersection of faith and life.
"An Urban Reserve at Kapyong: Imagining a Future" is the second of four Face2Face events CMU will host during the 2015-16 school year. For details, visit www.cmu.ca/face2face.
About CMU
A Christian university in the Anabaptist tradition, CMU's Shaftesbury campus offers undergraduate degrees in arts, business, humanities, music, sciences, and social sciences, as well as graduate degrees in theology, ministry, peacebuilding and collaborative development, and an MBA. CMU has over 800 full-time equivalent students, including those enrolled in degree programs at the Shaftesbury and Menno Simons College campuses and in its Outtatown certificate program. 
For information about CMU visit www.cmu.ca.
For additional information, please contact:
Kevin Kilbrei, Director of Communications & Marketing
kkilbrei@cmu.ca; 204.487.3300 Ext. 621
Canadian Mennonite University
500 Shaftesbury Blvd., Winnipeg, MB  R3P 2N2