Germinating Conversations: Eating Together at the Table takes place on World Food Day
Eating is one thing that all people have in common, but what do we eat when we are together? Who grows it? How did it get to our table? What was the impact on the land? Does the food nourish us? Is there enough? Does it taste good? How might these questions be informed by our faith?
These questions will be part of a roundtable conversation at Canadian Mennonite University (CMU) with food growers and eaters who think hard about these questions.
Titled "Germinating Conversations: Eating Together at the Table," the conversation takes place on Wednesday, Oct. 16 in CMU's Great Hall (500 Shaftesbury Blvd.). The event starts at 7:00 PM and all are welcome. Admission is free.
It's the fifth in the Germinating Conversations series on food, faith, eating, and the land presented by a partnership of CMU, the Mennonite Central Committee (MCC) Manitoba Peace Program, A Rocha Prairie Canada, and Food Matters Manitoba.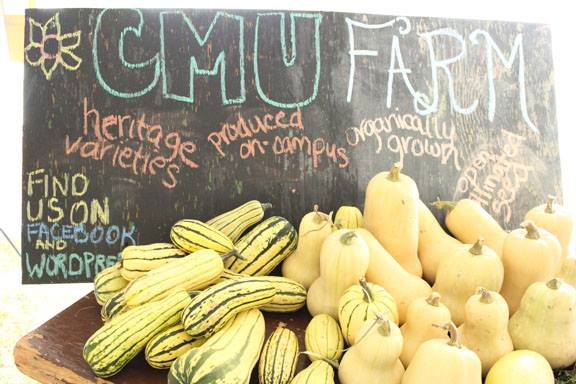 The conversations invite growers and eaters to the table to listen to one another, and are intended to help bridge divides among people of faith.
Kenton Lobe, instructor in International Development Studies at CMU and one of the event's organizers, says that Germinating Conversations aims to promote an understanding of how land stewardship and food ethics are understood in both urban and rural contexts.
"As farmers markets expand and the interest in 'eating local' surges, there remains a tension between those who grow food and those who eat it," Lobe says. "Germinating Conversations explores what it means for people of faith to eat. How does one's understanding of food as a gift from God impact daily decisions in the supermarket and in our kitchens?"
Lobe will facilitate the Oct. 16 conversation along with Deanna Zantingh, a student from CMU's Graduate School of Theology. The panel will include Ron Krahn, a third-generation grain farmer from Rivers, MB; Terry Mierau, an opera singer-turned-chicken farmer from Neubergthal, MB; Tina Hildebrand, a cattle farmer from the Pembina Valley; Aaron Epp, an urban eater who has lost 100 pounds over the past two years through diet and exercise; Melanie Unger, Spiritual Life Facilitator from CMU; and Matthew Dueck, a CMU student, urban farmer, and avid hunter.
"Germinating Conversations: Eating at the Table Together" is the second of seven Face2Face events CMU will host during the 2013-14 school year. The Face2Face series of conversations with CMU faculty designed to engage the community on a wide variety of current events and issues at the intersection of faith and life. For the complete Face2Face schedule, please visit cmu.ca/face2face.
"Germinating Conversations: Eating at the Table Together" falls on World Food Day, an annual event meant to encourage attention to agricultural food production, and strengthen international and national solidarity in the struggle against hunger, malnutrition and poverty.