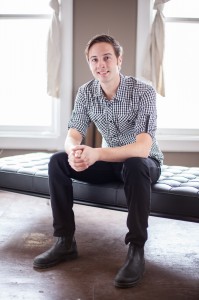 May 2, 2013 – Matt Sawatzky likes photography because photos tell stories in ways that words cannot.
"Learning to do that well—to be able to capture a story visually—is interesting to me," says Sawatzky, who participated in CMU's Outtatown Discipleship School 2001-2002 and graduated from CMU with a three-year B.A. in International Development Studies (IDS) in 2006.
Sawatzky's latest project combines his love for photography with his interest in international development. "A Sad Sort of Clean: Hydropower in Northern Manitoba" is an exhibit opening this Friday, May 3 at Winnipeg's Flatlanders Studio that features photography and video Sawatzky created along with Cree elder Ellen Cook.
The photos and videos feature people and waterways that have been affected by hydro development in Northern Manitoba. Sawatzky and Cook spent 11 days last spring visiting Grand Rapids, Split Lake, and South Indian Lake, three communities that are between five and 11 hours north of Winnipeg.
Commissioned by the Interfaith Task Force on Northern Hydro Development, a coalition of leaders from Mennonite, United, Lutheran, and Roman Catholic churches and The Thunderbird Lodge who aim to promote thoughtful debate on hydro issues, "A Sad Sort of Clean" asks three questions: Is hydropower clean? Are new dams a good idea? Does Manitoba need new dams or a new approach to hydro?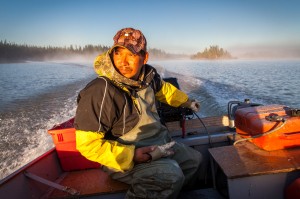 "The purpose of the project is to show the human cost of our 'green' energy," Sawatzky says. "It's not to disparage or demonize Manitoba Hydro, but rather, to counter the clean image they present themselves with by showing the people and waterways at the end of the transmission line."
"The goal was to show that our great hydro-electricity comes at a cost," he adds.
It was during his time in Guatemala on Outtatown that Sawatzky first fell in love with photography. When he returned home to Winnipeg, he enjoyed getting the prints back that he had shot with a small point-and-shoot camera.
Sawatzky says he enjoys photography in part because it's a way for him to record his experiences.
"Some people have a journal that they write in, but I've started to assemble photo albums for every year of my life," he says. "It's a way for me to document memories visually."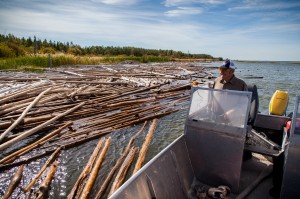 Sawatzky's Outtatown experience also led him to study IDS. The poverty he witnessed in Guatemala was eye-opening.
"Seeing the poverty, being out of my comfort zone, and seeing how the world actually operates made a big impact on me," Sawatzky says.
In the years since, he has combined his love for photography and interest in IDS by working with non-governmental organizations in Egypt, Nepal, South Africa, and Zambia. He's also travelled through India and New Zealand.
Sawatzky is currently working for a landscaping company and in September will start a pre-Master's program in Landscape Architecture at the University of Manitoba.
"My time at CMU definitely shaped how I try and direct my life," Sawatzky says. "Ultimately, I want to do work, whether it's photographic or otherwise, that's going to address inequalities in the world and work toward justice."
"A Sad Sort of Clean" opens at Winnipeg's Flatlanders Studio (782 Main St.) on Friday, May 3 from 7-10 PM. The exhibit will be up until the end of June. Regular hours are 1-4 PM on Saturdays and Sundays (closed May 25-26). For more information, visit the exhibit's Facebook page at www.tinyurl.com/SadClean.