Nicole Richard and David Thiessen take home President's Medals for scholarship, leadership, and service
Winnipeg, May 3, 2012 – Nicole Richard and David Thiessen are the 2013 recipients of Canadian Mennonite University's (CMU) President's Medals.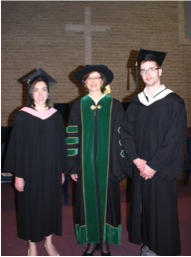 CMU President Cheryl Pauls awarded the medals during CMU's 2013 Graduation Exercises this past Sunday, April 28. Richard, who graduated with a Bachelor of Music Therapy degree, and Thiessen, who graduated with a four-year Honours BA in Biblical and Theological Studies, received the award in recognition of their qualities of scholarship, leadership, and service.
"I was very honoured to receive it," Richard says. "I was a little surprised … because I know there are a lot of students that really deserved it."
Richard, 23, and Thiessen, 21, were chosen from a group of 93 graduates.
"Nicole and David are incredibly fine people," Pauls says. "For those of us who teach and work at CMU, they humble us and exemplify the best ideals of the mission and vision of CMU, which is to inspire and equip women and men for lives of service, leadership, and reconciliation in church and society. Students like Nicole and David don't merely live out the CMU mission; they extend it beyond what we've already seen and imagined. In turn, they are the ones who inspire and equip faculty and staff."
The selection process focuses especially on students whose academic achievements are matched by their growth as well as potential in the practical application of their education.
While at CMU, Richard—who has a broad musical background that includes playing violin for 19 years, as well as the piano and guitar—led a Fellowship Group and worked as a tutor. She is also involved with leading music at her church, Our Lady of Perpetual Help, and volunteers with Faith and Light, a L'Arche outreach for people with intellectual disabilities and their families.
Thiessen was also involved with music during his time at CMU, playing guitar in a number of worship bands. His involvement in his home congregation, McIvor Avenue Mennonite Brethren, includes volunteering as a youth group leader as well as working to establish a young adults group. He has also participated two short-term missions trips to Peru with MB Mission, a Mennonite Brethren organization that supports international and local missionaries worldwide.
He is currently speaking with MB Mission leaders about the possibility of doing an apprenticeship with the organization.
Richard, meanwhile, will move to Kitchener, Ont. in September for an eight-month internship with kidsLink, an organization that offers multi-disciplinary services for children who have mental health issues.
Both describe their time at CMU as transformative.
"Being in class reminded me of how particular my own perspective is," Thiessen says, adding that engaging with faculty and fellow students challenged that perspective. "It really broadened out the way I see the world and the way I see my own tradition within it."
Richard also describes the conversations she had with fellow students as a highlight of her time at the university.
"Being a Roman Catholic at a Mennonite university has been really neat," she says. "I've enjoyed such excellent conversations with people where we've been able to share our own faith experiences … [and] the different ways God has led us from different backgrounds. That's been really inspiring for me."