Canadian Mennonite University (CMU) is pleased to announce that it has reappointed President Dr. Cheryl Pauls to a second term.
"We are extremely excited and gratified that Cheryl has accepted the call to a second term," says CMU Board of Governors Chair Gordon Daman. "We are also extremely thankful for the humble service and leadership she provides."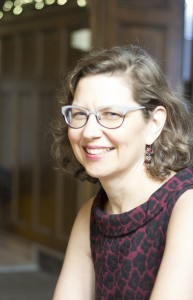 Pauls says that she is excited to continue to serve in her role as President.
"What I love most about CMU is the character of faith, courage, and vulnerability with which students, faculty, staff and surrounding communities collectively seek trustworthy understandings," Pauls says. "It is an honour and joy to nurture the avenues and relationships that sustain this vibrant university community."
Pauls' reappointment follows an extensive review of her first term that the Board conducted this past spring. The review included stakeholder feedback from faculty, staff, alumni, donors, sister institutions, Council and Board members, church leaders, and students.
"The gifts Cheryl has, and the commitment to service she exhibits each and every day, made the decision of a second call one that was not only easy to make, but one that was exciting for the Board," Daman says.
Pauls' second term, slated to last five years, will begin in the summer of 2017.
Pauls first began her work as President in November 2012. During her first term, Pauls oversaw the construction of Marpeck Commons, the university's new Library, Learning Commons, and Pedestrian Bridge.
During Pauls' administration, the university has introduced two new graduate studies programs: a Master of Arts in Peacebuilding and Collaborative Development, as well as a Collaborative Master of Business Administration program jointly offered by CMU, Eastern Mennonite University, Goshen College, and Bluffton University.
Since Pauls became President, CMU has also started offering a new undergraduate major in Environmental Studies.
In addition to these academic changes, Pauls has been a strong proponent of Indigenous education.
Also under her leadership, the university began hosting the Peguis First Nation post-secondary Indigenous transition program, a 10-month program that assists students in the transition from high school to post-secondary education, from the reserve to an urban setting.
Additionally, Pauls joined other post-secondary educational institutions in Manitoba last December in a commitment to advance Indigenous education and reconciliation by signing the Indigenous Education Blueprint.
Pauls succeeded President Dr. Gerald Gerbrandt, who served as President from 2003 until his retirement in June 2012, and Interim President Dr. Earl Davey, who served in this capacity from July to October 2012.
Pauls is a graduate of one of CMU's predecessor colleges, Mennonite Brethren Bible College, and holds a Doctor of Musical Arts degree from the University of British Columbia. Prior to becoming President, she served as Professor in Piano and Music Theory at CMU.
Pauls has made her home in Manitoba since 1983. She and her husband Bryan Harder have two sons, Nicholas and William. The family attends River East Mennonite Brethren Church.
About CMU
A Christian university in the Anabaptist tradition, CMU's Shaftesbury campus offers undergraduate degrees in arts, business, humanities, music, sciences, and social sciences, as well as graduate degrees in theology, ministry, peacebuilding and collaborative development, and an MBA. CMU has over 800 full-time equivalent students, including those enrolled in degree programs at the Shaftesbury and Menno Simons College campuses and in its Outtatown certificate program.
For information about CMU visit www.cmu.ca.
For additional information, please contact:
Kevin Kilbrei, Director of Communications & Marketing
kkilbrei@cmu.ca; 204.487.3300 Ext. 621
Canadian Mennonite University
500 Shaftesbury Blvd., Winnipeg, MB  R3P 2N2