Teacher, pastor, and spiritual director hopes students will 'courageously look at their lives'
Canadian Mennonite University is pleased to welcome Mary Reimer as Pastor-in-Residence later this month.
Reimer, a spiritual director and the former co-pastor at FaithWorks, a Mennonite Brethren congregation in Winnipeg, will be on campus Monday, October 31 to Friday, November 4.
Reimer hopes to inspire people to "courageously look at their lives."
"(I want to inspire them) to stop and learn some of the strategies for living an examined life in the light of Christ, because I really believe that that is the key to spiritual formation, that is the key to community life and the church," Reimer says. "It all begins with that right relationship with Christ and then overflows into all the other attachments in our lives.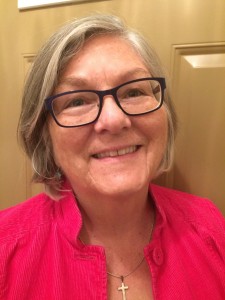 "If I can inspire anyone to begin that journey or to continue it if they're already on it, then it will be worth it."
Now in its seventh year, CMU's Pastor-in-Residence program is designed to encourage pastors to live in residence and participate in the life of the CMU community.
The Pastor-in-Residence provides spiritual care in various ways, including speaking in chapel sessions, visiting classrooms, participating in lunch-hour discussions for students interested in vocational ministry, and informal conversations throughout the week.
"Mary has a true love for people and an incredible ability to sit and be fully present when she meets with you," says Danielle Morton, Spiritual Life Facilitator at CMU. "She will bring a different voice and a different feel… My big hope is that students will sit with her and sink into that."
Reimer has a Bachelor of Education degree from the University of Manitoba and was a teacher for 20 years. A call to church ministry came in the form of an internship, which led to an Associate Pastor position at Fort Garry Mennonite Brethren Church for six years.
In 2002, Reimer and a colleague planted FaithWorks. While pastoring at FaithWorks, she pursued a Master's degree in Spiritual Formation and Leadership from Spring Arbor University in Michigan, where she studied under renowned scholars Richard Foster and Dallas Willard. She graduated in 2009.
Through this experience, Reimer was drawn to the practice of spiritual direction and has been practicing ever since. She has been a director in spiritual exercises of St. Ignatius and draws on the wisdom of both Ignatian and Benedictine teaching in her practice of direction.
Additionally, Reimer and her daughter, Heidi Reimer-Epp, co-founded Botanical Paperworks in 1996. The company creates eco-friendly plantable stationery, invitations, favours and promotional products embedded with wildflower seeds that bloom into flowers when planted. The company's clients include National Geographic, Starbucks, and Toyota.
Reimer and her husband, Gary, have three adult children and two granddaughters. In her spare time, Reimer enjoys painting with watercolours, and she is currently learning how to play the mandolin.
Reimer describes herself as "just an ordinary little old lady" who wasn't sure what she could offer the CMU community when she was first asked to be Pastor-in-Residence.
Then she came across Psalm 131, which reads in part: "O Lord, I am not proud; I have no haughty looks. I do not occupy myself with great matters, or with things that are too hard for me. But I still my soul and make it quiet, like a child upon its mother's breast; my soul is quieted within me."
"That's what I have learned something about—about how to be quiet in order to listen," Reimer says. "What I can offer the CMU community is Christ's invitation to come away, to learn to live an examined life in order to live in a right relationship to all things."
About CMU
A Christian university in the Anabaptist tradition, CMU's Shaftesbury campus offers undergraduate degrees in arts, business, humanities, music, sciences, and social sciences, as well as graduate degrees in theology, ministry, peacebuilding and collaborative development, and an MBA. CMU has over 800 full-time equivalent students, including those enrolled in degree programs at the Shaftesbury and Menno Simons College campuses and in its Outtatown certificate program.
For information about CMU visit www.cmu.ca.
For additional information, please contact:
Kevin Kilbrei, Director of Communications & Marketing
kkilbrei@cmu.ca; 204.487.3300 Ext. 621
Canadian Mennonite University
500 Shaftesbury Blvd., Winnipeg, MB  R3P 2N2