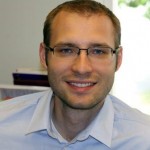 Kevin Derksen, a 2007 CMU graduate serves as pastor at St. Jacobs Mennonite Church (SJMC) in St. Jacobs, ON. He was on the CMU campus from November 2 to 6 as CMU's Pastor-in-Residence, a program designed to encourage out-of-province pastors to live in residence and participate in the life of the CMU community.
Derksen's reflection on his week at CMU appears in the Winter 2015 issue of SJMC's newsletter, Life Together. Republished with permission is Derksen's excerpt below.

Pastor-in-Residence for a Week: Canadian Mennonite University
by Kevin Derksen, SJMC Pastor
During the week of November 2-6, I had the opportunity to turn back the clock and re-live my student years at Canadian Mennonite University (CMU) in Winnipeg. I had been invited to spend a week on campus as the "Pastor in Residence" for the fall semester.
The "in Residence" part was quite literal—I was given a tiny bachelor suite in the student apartment block, and went for meals in the school cafeteria. The head cook was still the same from my time thirteen years before, and the good food I remembered hadn't changed a whole lot.
The years had been less kind to the mattress in my room, however, which clearly predated my student days by a fair margin. But I was sleeping on my own without young children to attend to, so the accommodations still felt pretty good. There was a fair amount of night-time commotion from rooms down the hall, but I decided those students probably didn't need me to find their 'blankie' and tuck them back in!
The point of the visit, however, was to spend time with students—not as a parent, but as a pastor. CMU invites someone to come for a week in each semester as a "Pastor in Residence." The idea is to bring a fresh face on campus to get to know the school, connect with students and initiate some good conversations. I was happy to accept the invitation when it came, especially as a former student with lots of connections and memories still there. Even though I became a pastor in Ontario, I was shaped significantly by my time at CMU. So it was fun to bring what I do now back to that community.
They did keep me pretty busythroughout the week. I spoke at three chapels and at a student worship night. I was a guest presenter in a couple of ministry-related classes. And I had lunches and meetings with a handful of student and faculty groups. In many of these settings I shared about my own experience as a pastor and invited reflection on topics that are significant within our context here at St. Jacobs. I discovered all sorts of resonances and common interests. It turns out that many of our current issues and conversations here are happening within churches in Winnipeg and beyond, too.
I also spent a whole lot of time in campus coffee shops visiting and talking with people. There were a couple of mornings where I was assigned to sit with a box of cookies to share with students who stopped by for conversation. But I also spent lots of time visiting with staff and faculty, as well as community folks who happened to be around.
On one day I had "coffee" with six different people over the course of five hours, as I held court in one of the cafes. By the end of the week, I was pretty chatted out! But it was really interesting to hear what was going on at CMU and make some connections with where I was coming from as a pastor. Hopefully students and staff and faculty at CMU found something valuable in what I shared as well.
Part of what I took from the week was also a renewed appreciation for what a place like CMU can be and do as a branch of the church. So, here are a few quick reflections on what I noticed as the vibe at the school right now:
CMU has just completed a building project that created a new library, coffee shop and student space called the "Marpeck Commons." The new space is connected to buildings on the other side of Grant Avenue by a fancy indoor bridge that saves the need for risky street crossings in the winter. The bridge and the Commons have transformed the CMU campus. It has connected the buildings on both sides of the street, and created a natural crossroads for the community. I have never experienced a building project that has had such an immediately positive impact on the culture of a place. Kudos to the vision that lay behind it.
When I began as a student at CMU thirteen years ago, there were still growing pains in the integration of the partner colleges. In particular, some of the church culture distinctives between the Mennonite Brethren and Mennonite Church Canada were still being negotiated. My sense fifteen years into this experiment in unity is that these divisions are less of an issue. In part, because the school has grown to encompass a much greater diversity of students. These days, less than half of students come with any sort of Anabaptist or Mennonite background. CMU remains committed to providing education from an Anabaptist perspective, but there is a wide and beautiful diversity in those who come to learn.
Finally, I was struck by the wealth of thoughtful and committed student leaders that I met – many of who are and will be leaders for the church. It was encouraging to receive their passion and to share my story in the midst of it. God is at work at CMU, as in many other places of learning and formation that we are connected with.I'm grateful for the opportunity to see that again.