Ayla Manning initially wasn't sure she'd want to study at Canadian Mennonite University (CMU). But attending CMU on a Campus Visit Day helped change her mind.
"I interacted with the professors who would be teaching me, which hadn't happened at any other schools," she says. "It was a sign of how the relationships between students and staff would go."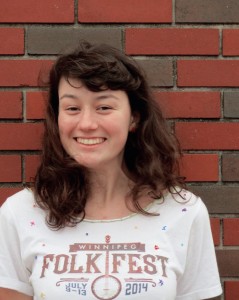 Although she had intended to come for only one year, Manning has since decided to pursue her full degree at CMU. A second year Communications & Media major, Manning learned about CMU through Westgate Mennonite Collegiate, which she attended for grades 10-12.
Manning, who doesn't come form a Mennonite background and is an atheist, says CMU is a great place to "talk about faith, religion, beliefs, and why people think and live the way they do."
She says she hasn't felt pressured to "think one way or act one way." Being surrounded by people who live their lives in a way that mirrors what they think about has encouraged Manning to think about her own perspectives and beliefs.
"Being in a religious environment hasn't caused me to become religious, but to think about the way I live my life and why I live my life in this way," she says.
For those who wonder about attending CMU and are not from a Mennonite or Christian background, Manning encourages a visit to "see people in their everyday school lives, because that's pretty much how it's going to be."
Having an open mind and being prepared for others to have different beliefs is also important, she says. "Based on my experience, you'll never feel pressure, shame, or being left out."
As one of CMU's commuter assistants, Manning helps make life easier for students who commute to CMU. Organizing monthly events and being available to answer questions or provide some assistance during times of crisis are some of the services commuter assistants provide. Manning is also a member of Committee Council, which includes representatives from all areas of life at CMU.
While she hadn't anticipated studying at CMU, Manning expresses appreciation for the atmosphere and people on campus. "People are really nice and make an effort to reach out," she says.
By Ellen Paulley, Writer & Social Media Coordinator