March 27, 2013 – In June, 2011, the Souris River—which divides the city of Minot, North Dakota in half—experienced record flooding. More than four thousand homes were destroyed in a disaster that displaced 12,000 people. On Saturday, February 17, eight Canadian Mennonite University (CMU) students as well as two staff, Sandra Loeppky and Rick Unger, left for North Dakota. Instead of relaxing, catching up on classes, or spending time with their families, the volunteers were willing to spend their reading break working in the community.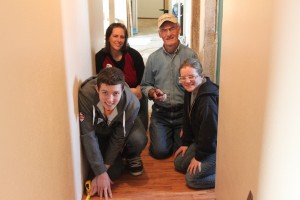 The students are being sent to Minot to help with the large-scale, multi-year MDS response to the flood, which is currently in its second year. CMU students were also sent out last year, and it is clear that their efforts made a difference. "In an interesting twist, we slept in the church that we helped build last year, on beds and bunks that we helped move," says Sandra Loeppky, Coordinator of Commuter, Disability, and International Programs who helped plan both trips.
This year marked the first time in a while that Witness Through Service, a CMU Student Council Committee, was involved with the planning. Both of the leaders of the group, Christie Bueckert and Arlana Muller, joined the team in Minot this year. The committee helped with the organizing as well as the promotion of the trip. Bueckert says that she really enjoyed the experience because of the people she met in the community as well as the change of pace from the more mental work of school.
Students this year were involved in the construction of multiple homes, and worked in various roles, from painting to insulating to helping finish up drywall. At the end of the week, they were involved in a house dedication at the end of the week, giving the house they helped build to a couple, their daughter, and the daughters' three children who lived with them. "Our students were asked to lead the singing for the dedication," Loeppky says, calling the experience very touching.
Desiree Penner is a first year student at CMU. Recounting her experience, she said that "the hands on time spent repairing the homes affected by the flood was very worthwhile, but on top of that, I made amazing new life-long friends." She was working on the team that helped repair the basement in a home. Desiree emphasized that she would love to go on the trip again next year. "It was definitely an experience that everyone should put on their bucket list!"