'It's neat to see the hard work … pay off,' says winner
WINNIPEG –  Violin, piano, French horn, and vocal performances were all part of the final round of the ninth annual Verna Mae Janzen Music Competition at Canadian Mennonite University.
Held on Thursday, March 20 in the university's Laudamus Auditorium, the competition featured eight performers who progressed from an initial field of 19 competitors.
The competition was exceptional and each of the eight finalists gave outstanding performances, said Janet Brenneman, Dean of the CMU School of Music.
"It was exciting for the audience to see the performers rise to the occasion and genuinely enjoy the experience," Brenneman said.
"The competition is important because it gives the CMU community, as well as our wider public, an opportunity to see and hear the students perform on their solo instrument. We often present ensemble performances, but this showcases another important aspect of our program: the solo and collaborative performance.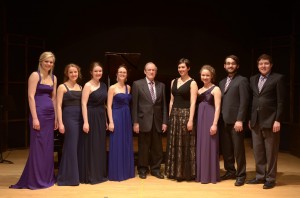 Deidra Borus, Rachel Enns, Ashley Fredette, Breanna Heinrichs, Josiah Brubacher, Sean Goerzen, Anna Bigland-Pritchard, and Rebecca Klassen-Wiebe were the eight students who competed on March 20.
Klassen-Wiebe, a fourth-year pianist, was awarded $700 and first place in the competition. Borus, a lyrical soprano who is studying music therapy, placed second and received $500 
Heinrichs, a pianist studying music at CMU, and Bigland-Pritchard, a soprano in her fourth year of her Bachelor of Music in Music Ministry and Vocal Performance, tied for third place. They will share a $300 award.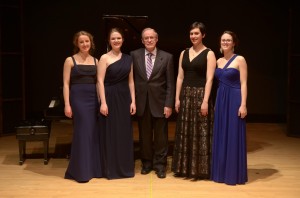 Reflecting on her win, Klassen-Wiebe said that placing first was meaningful because it meant her performance connected with the judges and the audience, and evoked their emotions.
"I'm super excited that I won the money, but it's more meaningful because it means I succeeded in my musical goal of touching people," she said. "That's better than any prize."
Klassen-Wiebe added that competitions make her nervous, but she enjoyed the opportunity to perform music she had spent a lot of time practicing.
"It's neat to see the hard work and emotions you've invested into your education and pieces pay off," she said.
The competition is made possible by Peter Janzen of Deep River, Ontario, and named in memory of his wife, Verna Mae, who died of cancer in 1989 at age 53. Janzen attends the final round of competition each year, and speaks with competitors.
"It's very personal," said Klassen-Wiebe, who has competed for three years and spoken with Janzen each time. "I've gotten to know him a little bit better each year, and that's a very cool part of this competition."
Brenneman added that the event is a friendly competition among the students. They are genuinely excited for each other and always enjoy the performance.
"Many of them comment to me that they forget they are competing against each other – they simply enjoy being on the stage and putting together this great concert with their friends," she said, adding that the audience is supportive, too.
"Sometimes at competitions, the only people present are a few immediate family members," Brenneman said. "Here, the entire CMU community is interested in this event and the competitors themselves bring in friends and family from all over. It's fascinating!"
____________________
For more photos documenting the 2014 Verna Mae Music Competition, please click here.