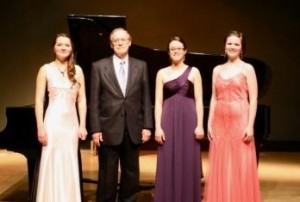 April 9, 2012 – The 7th annual Verna Mae Janzen music competition at Canadian Mennonite University (CMU) welcomed audiences for a public performance showcasing CMU's talented instrumentalists and vocalists. The event required  a preliminary round of performances in the first week of March, followed by the competition finals that took place March 29 in the Laudamus Auditorium.
Competitors in this year's finals were: Anna Bigland-Pritchard, soprano; Rebecca Klassen-Wiebe, piano; Rebecca Hill, soprano; Daniel Bergman, tenor; Josiah Brubacher, tenor; Rocio Martinez, soprano; and Courtney Dugan, mezzo soprano.
CMU awarded first place honours to Rebecca Hill. Rebecca Klassen-Wiebe won second place, and Anna Bigland-Pritchard won third.                                                                From left: Rebecca Hill, Peter  Janzen,
                                                                                                                                                                                       Rebecca Klassen-Wiebe, Anna Bigland-Pritchard
The Verna Mae Janzen Competition is made possible each year through the generous contributions of the event sponsor and prize donor Peter Janzen, from Deep River, Ontario. Janzen established the competition in memory of his wife, Verna Mae, who died of cancer in 1989 at age 53 and who shared the joy of singing with her husband. This was Janzen's seventh year of travelling to Winnipeg to attend the competition.
"As founder of the Verna Mae Janzen competition, Mr. Janzen takes an avid interest in the development of our students," says CMU competition organizer Henriette Schellenberg. "We are grateful for his interest and for his support for our student musicians and singers. It is gratifying to see the quality of performances, and to see how much our students appreciate having an opportunity to showcase their talents in a competition of this level." 
This year's competition juror was distinguished conductor Henry Engbrecht, Professor of Music and Director of Choral Studies in the Faculty of Music at University of Manitoba. Engbrecht is a renowned conductor within the Manitoba community and abroad. He has trained a generation of conductors and teachers in Manitoba, acting as a model of excellence to them as well.
"CMU very much appreciated the privilege of welcoming Professor Engbrecht as this year's juror," says Schellenberg. "Receiving feedback from an expert provided competitors with an experience to grow and learn as musicians."
The response from the audience to this year's expanded program was very positive, says Schellenberg. "They really loved the variety, especially this year because of the different instruments." 
 One thing that has not changed from previous competitions is the excellent performances of the competitors, especially those who reach the competition finals. Says Schellenberg: "I was pleased with the high calibre performances from CMU students and proud of the efforts that went into preparing for the Verna Mae Janzen competition."