Rebecca Klassen-Wiebe and Mike Wiebe take home President's Medals for scholarship, leadership, and service
Rebecca Klassen-Wiebe and Mike Wiebe are the 2015 recipients of Canadian Mennonite University's (CMU) President's Medals.
CMU President Cheryl Pauls awarded the medals during CMU's 2015 Graduation Exercises on April 26. Klassen-Wiebe and Wiebe (no relation) received the awards in recognition of their qualities of scholarship, leadership, and service.
"CMU has been a very important place for me for the years I've been here, so getting this award means a great deal to me," Klassen-Wiebe says.
Klassen-Wiebe, 22, and Wiebe, 21, were chosen from a group of 89 graduates.
Klassen-Wiebe, who lives in Winnipeg's River Heights neighbourhood, graduated with a Bachelor of Music, Concentration: Performance – Collaborative Piano.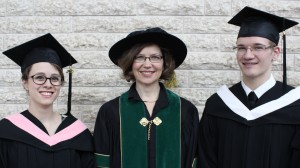 During her time at CMU, she immersed herself in university life by living on campus, working as a residence assistant, singing in choirs, performing with various music ensembles, and attending chapel services.
She is also involved at Charleswood Mennonite Church and has spent numerous summers working as a camp counsellor at Mennonite Church Manitoba's Camps With Meaning.
Mike Wiebe, who is originally from Gretna, MB, graduated with a four-year Bachelor of Arts, majoring in Communications and Media. During his time at CMU, Wiebe lived on campus for two years and worked as a residence assistant for one of those years.
He played guitar in worship band, participated in chapel services, sang in a number of choirs, and worked on campus as a sound engineer. Like Klassen-Wiebe, he has spent many summers working at Camps With Meaning.
For Wiebe, highlights of studying at CMU included growing deeper in his faith by studying Mennonite history.
"Aside from my communications studies, courses on Mennonite studies and defining Anabaptism have impacted me and made me excited about work in the church," he says.
Klassen-Wiebe says she has enjoyed studying at CMU.
"I have loved seeing the interweaving of music and faith through my education here," she says.
Janet Brenneman, Dean of CMU's School of Music and one of Klassen-Wiebe's professors, says Klassen-Wiebe demonstrated what it means to be a music student at CMU.
"She got involved in as many music activities as she could, she took her studies very seriously, she got involved in the life of CMU outside of music, and I think people on campus knew her for her music abilities and beyond," Brenneman says. "She is hardworking, a fine musician, a much-loved student, and a really great person."
David Balzer, Assistant Professor of Media and Communications and one of Mike Wiebe's professors, describes Wiebe as a hardworking, passionate student who demonstrated creativity in his assignments.
At the same time, Balzer notes Wiebe's contributions to the CMU community outside of the classroom.
"Mike just simply invests in people," Balzer says. "If he's passionate about the academic side, I think he's equally passionate about noticing people and giving what he has to them."
Both President's Medal recipients are in the midst of discerning what comes next in life.
Right now, they are working together for the next three months as co-directors of the summer program at Camp Assiniboia, located 20 minutes southwest of Winnipeg.
"I hope that my future will be able to integrate my love of people, of music, and of faith in some way," Klassen-Wiebe says.
Mike Wiebe says that receiving the President's Medal has caused him to reflect on his CMU experience and appreciate it even more, because he has realized how invested he was in the university over the past four years.
"This place has really impacted my life… and I think I've somehow, in some way, made CMU a part of my daily living," he says.
About CMU
A Christian university in the Anabaptist tradition, CMU's Shaftesbury campus offers undergraduate degrees in arts, business, humanities, music, sciences, and social sciences, as well as graduate degrees in theology, ministry, peacebuilding and collaborative development, and an MBA. CMU has over about 900 full-time equivalent students, including those enrolled in degree programs at the Shaftesbury and Menno Simons College campuses and in its Outtatown certificate program.
For information about CMU visit www.cmu.ca.
For additional information, please contact:
Kevin Kilbrei, Director of Communications & Marketing
kkilbrei@cmu.ca; 204.487.3300 Ext. 621
Canadian Mennonite University
500 Shaftesbury Blvd., Winnipeg, MB  R3P 2N2