A two-week study tour to Europe provided Redekop School of Business (RSB) students with an opportunity to experience what they have studied in class.
Spending one week each in Western and Eastern Europe, participants learned about Europe's economic, political, and social integration; met with various business, government and academic institutions; learned about Canada's role in the global economy; and discovered ways the European Union (E.U.) utilizes its role to foster peace and development across the continent.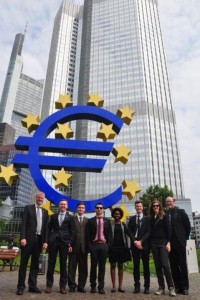 "The purpose of the tour was to see firsthand the significant changes taking place in Europe, that we discussed in class, and the challenges of integrating 28 countries within the E.U.," says Jeff Huebner, Associate Professor of International Business. "On a tour like this, students see that the themes, issues, and topics we talk about in class are highly relevant," he says.
RSB, a program of Canadian Mennonite University (CMU), develops the potential of future business leaders to bring together sound business practice with commitments of faith, generosity, and service.
Tour participants included a group of Canadian and international students and a member from the business community in Manitoba. The tour began with a week in Western Europe—visiting Belgium, Germany, and France—founding members of the E.U. The group visited various European institutions including the E.U. Council, Commission, and Parliament in Brussels; met with Canadian trade officials negotiating a new Canada-E.U. trade pact; visited the Frankfurt stock exchange and the European Central Bank; and participated in cultural activities in Paris.
The group also met with Titus Horsch, MEDA Europe Director and his wife Anita, who is a Canadian Mennonite Bible College alumna. Huebner has partnered with MEDA in various areas including on previous study tours to Latin America.
The week in Eastern Europe was spent visiting the Baltic countries of Lithuania, Latvia, and Estonia that have undergone significant changes in transitioning from the Former Soviet Union (FSU) to joining the E.U. a decade ago.
Highlights of this portion of the tour included meetings at the Lithuania parliament to discuss the country's role in recently leading the E.U. Council presidency; briefings on Latvia's transition to adopting the Euro currency this year; observing NATO fighter jets flying overhead and pro-Russian protests over the annexation of Crimea; and spending a day with students and faculty at LCC International University, an academic partner institution of CMU.
LCC University was the first English-speaking Christian university established in the FSU. Participants heard about LCC students' perspectives on life in Eastern Europe and shared about Canadian life and culture.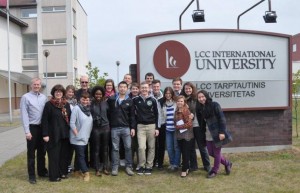 For investor Norm Klippenstein, the visits to LCC University and with Canadian diplomats in Eastern Europe were highlights. Visiting LCC around the time of Russia's annexation of the Crimea, Klippenstein says the conversations with Ukrainian and Russian students at LCC were priceless.
"LCC, with some 600 students, of which 60 and 80 are Ukrainian and Russian students respectively, provides a natural place for dialogue on these important peace issues," he says. "The Canadian Ambassador's candid reflections on the region's history added to our understanding of the challenges the countries face."
Huebner is working to enhance the international study tours offered by RSB and integrate them into the wider community, including the business community. Tours are offered each year, alternating in focus from business in Europe to economic development and microfinance in Latin America. Financial assistance is available for students through RSB travel grants.
Huebner is passionate about connecting students with real world experiences.
"What I enjoy most is opening the eyes of our students to the wider world that's out there that has a lot of different needs," he says. "We can use business in a lot of non-traditional ways such as combining it with development and missions, to make a positive difference in the world."
The next RSB study tour, looking at microfinance in Central America, is being planned for spring 2015. If you are interested in participating, contact Jeff Huebner for more information.