Professor hopes book will reach a wide audience, serve the church
Winnipeg – How does the portrayal of clergy in secular culture affect the church? What are the cultural factors that might make the ministry a hard sell? And have literary and cinematic works been misrepresentative, misleading or even harmful?
These are some of the questions at the heart of The Collar: Reading Christian Ministry in Fiction, Television, and Film, a new book by Sue Sorensen, Associate Professor of English at Canadian Mennonite University (CMU).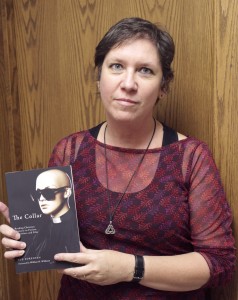 The Collar combines thematic analysis and close readings to create what publisher Cascade Books describes as, "a wide-ranging study of the many ways—heroic or comic, shrewd or dastardly—Christian ministers have been represented in literature and film."
Sorensen adds that The Collar is a good intersection of her interests in church, literature, and film.
"These are all things that profoundly affect me," she says.
Concentrating on works from Canada, the United States and England, Sorensen explores a variety of novels, plays, TV, and movies—from The Scarlet Letter to Footloose—to make inquiries about "pastoral passion, frustration, and fallibility."
Sorensen says that one of her personal incentives for working through the clerical references in literature and film is that many people she knows, including her husband, are members of the clergy.
She notes that ministers are often portrayed as conservative, out of touch and repressed—a description that does not fit the church leaders she knows.
When she began work on the book, Sorensen could think of many negative portrayals of Christian ministers in literature and film, and hoped she would find more positive portrayals in her research.
However, some of the books she found most heartening included portrayals of pastors who were failures, but good failures—characters who were deeply flawed human beings but trying their best to serve God and the church.
"I did not find heroic, positive role models, but I think I found something better," Sorensen says.
While it may seem contradictory, Sorenson's style in The Collar is both scholarly and accessible. She hopes the book reaches a wide audience, so that the average person in the pew can pick it up and read it.
Ultimately, Sorensen wants The Collar to be of service to the church. As she notes in the book, all Christians are ministers.
"Most of us do not think of ourselves in this manner from day to day, but unconsciously we must be studying pastoral actions and attitudes for models of what we should be doing or not be doing."
An active member of First Lutheran Church in Winnipeg, Sorensen is the author of a novel, A Large Harmonium, and the editor of West of Eden: Essays on Canadian Prairie Literature. She has written about contemporary British literature, detective fiction, film, popular music, children's writing, and is also a published poet.
The Collar is available in stores now. A Winnipeg book launch event is planned for Sunday, October 5 at 2:00 PM at McNally Robinson (1120 Grant Ave.).
Visit www.suesorensen.net.
About CMU
A Christian university in the Anabaptist tradition, CMU's Shaftesbury campus offers undergraduate degrees in arts, business, humanities, music, sciences, and social sciences, and graduate degrees in Theology and Ministry. CMU has over 1,600 students, including those enrolled in degree programs at the Shaftesbury Campus and its Menno Simons College and programs. 
For information about CMU, visit: www.cmu.ca.
For additional information, please contact:
Kevin Kilbrei, Director of Communications & Marketing
kkilbrei@cmu.ca; 204.487.3300 Ext. 621
Canadian Mennonite University
500 Shaftesbury Blvd., Winnipeg, MB R3P 2N2